Back to News
B$Z: Academy Snowboards Summer Update
September 1, 2011
Academy Snowboards Summer Update

Highlights include: Top Park Board, Events, and Company Personalities

Serenity Wins Transworld Top Park Board

The Serenity Series was awarded one of the highest honors in snowboarding, being voted

Transworld

Snowboarding's top 5 women's park boards (under $399!) for 2012!! The validation reflects what women riders have known for years, the Serenity is the perfect board for girls wanting to progress their riding and learn new tricks. Click here to check out the regular and reverse camber Serenity snowboards.

Jonas Michilot Does It Again!

Putting out arguably his best part to date in Videograss's "Shoot the Moon," Jonas rose to the occasion last year and will be turning heads at Videograss premieres across the globe this fall. Hailing from Minneapolis, Minnesota and admired by riders worldwide, Jonas has been killing it with Academy Snowboards since 2003! To learn more about Jonas click here.

Representing At Teen Outreach Festival

We believe it's important to stay involved in our local community and on August 20th we sponsored the "Celebrate Out Loud" Teen Outreach Festival in Auburn, California to get kids stoked on pursuing positive goals. We met a lot of awesome people at the event and saw a bunch of talented young artists, dancers, musicians, and poets. The future is looking bright! Click here to get involved and check out a gallery from the event.

Meet The Company -
Joel Vandruff- Sales Rep Extraordinaire

Joel Vandruff started with Academy Snowboards as a camper at Camp Academy in 2005 and has since turned himself into a sales rep extraordinaire! Technically savvy, artistic, customer service minded, and a skilled snowboarder, Joel has developed all the tools to master the sales game while keeping his ear to the streets, developing board graphics, and inspiring the next generation of shredders and artists as a coach at Camp Academy. To check out Joel's bio and gallery click here.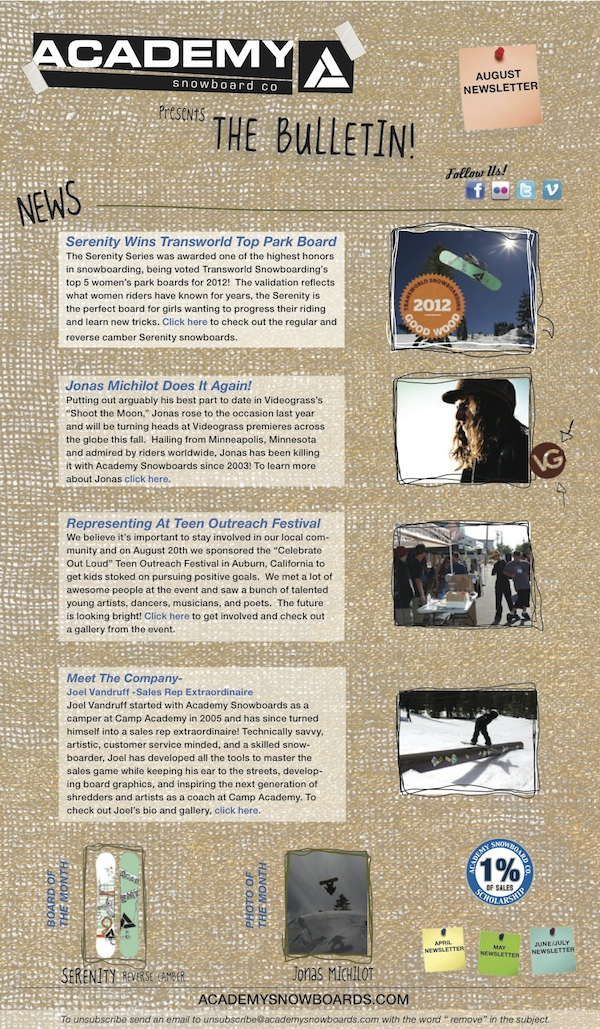 ---