Back to News
COALATREE Organics
October 1, 2011

What is the inspiration behind COALATREE? What does the name mean? How is it pronounced?
The COALATREE name comes from references to growing or gardening, nothing is better than having good things that are good for nature. The very top and center point of the plant produces the best produce or goods, which is called the main cola. The inspiration behind COALATREE is a desire to live a lifestyle centered around sustainability and living the high life.
It's pronoucned KO-AL-A-TREE
Who are the founders of COALATREE?
Cavin Nicholson & Jake "Charlie" Bessey are the founders of COALATREE Organics and came together in the spring of 2010 to bring a unique brand to the industry focused around the "Reap What You Sow" mentality.
Jake "Charlie" Bessey worked at Skullcandy as the sixth employee addition to the team Hired on by CEO Rick Alden at 20 yrs old. This opened the opportunity to come into the industry learning from legends like Dan Levine, Jeremy Andrus, Luke Edgar & Jeff Kearl. While at Skullcandy "Charlie" went on to create the core backing behind Skullcandys music & entertainment marketing including inventing & creating the SkullcandyTV video outlet. In 2009 "Charlie" was approached with the idea and possibilities of COALATREE & went from Skullcandy to start the founding of COALATREE Organics
Cavin Nicholson grew up in the Mecca of the action sports world in Newport Beach, CA. Supporting and learning from companies at a young age like Volcom, Lost, & RVCA gave Cavin the drive and knowledge to bring a new & creative brand to the industry.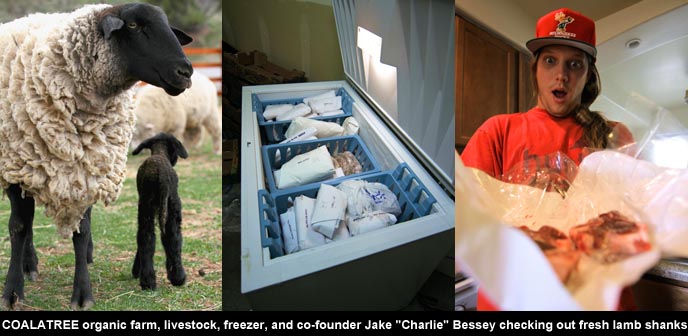 Who designed the initial COALATREE line?
The COALATREE Organics clothing line was designed by Cavin Nicholson & Charlie Bessey on the COALATREE Farm. We were able to accomplish many things for an initial line that helped support organic farmers and their methods around the world. The goal of future lines is to eventually expound upon what we are implementing and become 100% sustainable.
COALATREE is located on a self-sustaining farm. What makes the farm self-sustaining? Does it create its own electricity?
COALATREE Organics purchased desolate ranch land on the Colorado River. Over the course of a year, we brought chickens, cattle, lambs, sheep, turkeys, pigs, goats, and plants that restored the biodiversity to the area. Crops that we grow attract bees, worms, praying Manti and many other bugs that help feed the animals along with increasing our sustainability. COALATREE organics produces over 2.5 tons of food a year that is all used for employees and charity.
Where are COALATREE products made?
COALATREE Organics works with and supports many different countries in their quest to be sustainable. We are excited about our opportunity to directly support Organic farmers in India, Pakistan, Peru, China, Turkey, Hungary, Mexico and the USA. GMO farming and chemicals decrease the chances for the Organic farmer to survive. Our products are produced using green and sustainable methods that DO NOT damages the countries local community. Consuming COALATREE is a direct way to support your world's local farmer
Are all COALATREE products 100% organic material?
The brand worked very hard to produce 70% of the pieces we make with organic fabrics that are grown by individual farmers around the world. We offer 100% Organic Raw Denim, Bedford Cord, Button up woven's & flannels, graphic & pocket tees, & the green toe sock. The next step that we are taking to reduce our carbon foot print and increase the worlds support for organics by creating pieces with waxed cottons, canvas, leather and other fabrics.

How will the commitment to creating organic apparel be maintained as the company grows?
As COALATREE grows we spend a large amount of time, effort, and funds to support those organic farmers we work with around the globe. We are developing methods of producing our products without having a negative effect on Mother Nature. At COALATREE as we grow we want to give back to the consumer by sticking to our commitment to quality product and an eco friendly mindset.
What roll do action sports play in the company's plan?
COALATREE Organics was born as an idea from people who love the action sports industry and wanted to bring a message and a brand that could directly giveback to this industry. We came out the first year supporting athlete & artist teams, a big way for us to do this was to grow organic produce & livestock to supply the artists, athletes, & shops we work with, including Adam Dyet, Kyle McDonald (Slightly Stoopid), Pat Milbery, Jake Brown, & Copper Woodward. Every member of our team is provided with a COALATREE chest freezer that we keep stocked with fresh Organics from the farm throughout the year. We also have plans to build out one of the worlds largest skate parks on the COALATREE Organics farm, as well as supporting and creating new events within the action sports industry. Were also doing collaborations with athletes such as Jake Brown (LACED) & Pat Milbery (SO GNAR) where proceeds will go directly back to the companies they own.
COALATREE Organics has also a strong marketing plan to travel to shops in the US this coming spring 2012 and provide a fully Organic Taco BBQ for the community. During these events we will be promoting urban gardening by giving out COALATREE grow bags & legume seeds, which make it easy to have an urban garden anywhere! We are also very excited in the future to launch giveback campaigns around building skate park/community gardens in major cities, having the skate community taking care of the garden and supplying Organic food within their communities. We also have a lot of philanthropy giveback programs we are stoked on such as; Buy 1 Give 1 to the HOMIES (Homeless) with our sock & tee programs. Which will include a number of socks and tees bought we will directly give a pair of organic socks & a tee to a homeless homie in need.
Is there a team of athletes and / or brand ambassadors in place?
Yes we have an awesome skate team and list of ambassadors we feel represent the lifestyle and message of COALATREE Organics
Skate & Artist Team:

Adam Dyet, Matt Guerrero, AM TEAM Bryce Hudson
Artists Team: Shaun Gordon
Brand Skate Ambassadors: LACED CREW
Music Brand Ambassadors: Members of John Browns Body, Members of Slightly Stoopid
Ski Brand Ambassadors: Parker Cook
Snowboard Brand Ambassadors: Pat Milbery
Where can COALATREE products be found once released at retail?
COALATREE Organics will be launching with EVOGear, Powder & Sun, Swell, Karmaloop, Trucker Deluxe, FICE, Wave Riding Vehicles, & URBANE to name a few. We will have a full dealer locator system & store on www.COALATREE.com


Is the company hiring?
COALATREE added Adam Harris as our Director of Media Productions. Adam has years of experience working freelance for powerhouse KarmaloopTV & Video Operations for Blue Man Group Boston. Adam has made an awesome addition to the COALATREE team.
COALATREE hired on Skyler Gillette as COALATREE Sales Director, formerly a key player in the Skullcandy sales team with over 4 yrs experience working with and for industry sales leader Luke Edgar as the key accounts specialist. With Skyler's relationships & experience COALATREE could not be more excited about adding Skyler to the sales team.
We will be looking as the company grows over the months build a strong Sales Rep & Design team for COALATREE Organics.
What else should the audience know about COALATREE?
The COALATREE Mission: we are dedicated to producing the highest quality organic products that will inspire people to live a healthier life. COALATREE is crushing the concrete jungle by living the "reap what you sow" lifestyle. Together with the action sports industry, we are bringing the farm to the streets.
---