Back to News
B$Z: Habitat Footwear Launches Danny Garcia Pro-Model Series
October 5, 2011
Habitat Footwear Launches Danny Garcia Pro-Model Series

Habitat Footwear announced the latest in its footwear collection with the introduction of the Danny Garcia pro model.
The Garcia marks the second pro-model in a series of athlete-inspired shoes this season.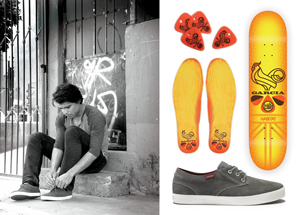 Garcia joined the Habitat Footwear team officially in April of this year and has been working with designer Aaron Hoover to develop a signature shoe that would best define his aesthetic style. Garcia has been a part of the Habitat family since it's inaugural offering of Photosynthesis in the year 2000.
Slated to hit stores this month, the "DGar" line will feature a low-profile silhouette with a thin collar padding. The series comes in two colorways and embodies both a suede and canvas upper with vulcanized outsole construction. The footbed art and branding for the shoe is based off one of Danny's original Habitat Skateboard's deck graphic – Rooster Blues. All of his decks and shoes include a custom Habitat "Rooster Blues" guitar pick.
"Danny is a Habitat original and one of the most naturally stylish dudes in skateboarding. He exemplifies the brand in both his skating and his outside interests. We are proud to add him to our footwear program and excited for the debut of his pro-model shoe," noted Joe Castrucci.
To check out the latest Danny Garcia video and product launch, log onto www.habitatfootwear.com or check us out on our Facebook page.

---