Back to News
Kirsten Gould – Designer & Entrepreneur
October 1, 2011
Kirsten Gould – Designer & Entrepreneur
From mainstream fashion, to action sports industry designer, to freelancer and now entrepreneur, Kirsten Gould is carving her own path. Her newest venture, Sketch-Folio.com, is aimed at making life in the design room a little bit easier.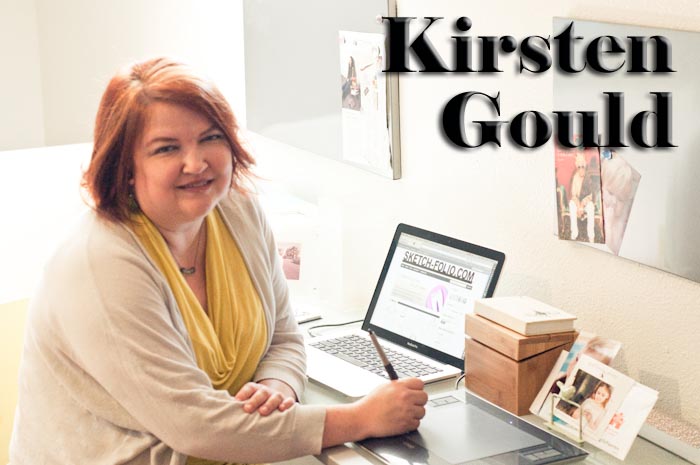 How did you come about working as a Designer at Drawls / Dawls way back when?
I had been working in the mainstream fashion industry in LA, and was looking for a more laid back industry. I really liked Dawls design aesthetic and was impressed with the entrepreneurship of Ryan Rush (founder of Dawls/Drawls/Stepson). It was a great team of people to work with and was fun to be part of an up and coming company.
What are the most notable differences in design between now and then?
I don't think much had changed in the fashion industry between 1940's to the early 1990's! About 80% of production was still made in the US. We had to run a lot of errands, like delivering paper patterns, fabric, trim etc. to graders, cutters or contractors. We had to draw our sketches on white paper, copy them onto clear transparencies, then put them on prints, or colored fabric that we were using, color copy them, then cut them out. When Adobe illustrator became an industry standard, it changed my life! That's when I became an aspiring computer nerd.
Over the years, are there any particular people who stand out as influencers in design trend within action sports?
I see brands as being more influential than individual designers in the action sports industry. When I was starting out in the industry, the women's action sports labels were practically nonexistent. I believe the Roxy brand was a major influence in action sports fashion industry. Not only did they change the action sports industry, but I think they made larger fashion mainstream brands steer toward their more casual "California" active style.
What made you decide to go freelance back in 2007?
The economic downfall caused my employer to lay off a lot of their employees, including myself. I have always found it easier to find the kind of job you want, by "test-driving" companies first by freelancing for them. It lets your employer see your skills and work ethic first hand. I have been blessed to have consistent freelance jobs since then with repeat clients.
How does your freelance career compare to the days of being full-time?
Freelance is like riding a roller coaster. Sometimes it can be a little scary once a job ends, to line up the next one. But it also allows you to try new things like starting, sketch-folio.com. A full time job "feels" much more secure and has more benefits, but since the fashion industry can be so volatile, it can be a false security.
You've managed to keep quite a few big name clients going at once over the last few years, how's that juggling act?
That is another benefit to being an independent freelancer; you have the opportunity to work with a lot of major companies. I get to network with a lot of people, who usually are a point of reference, for my next freelance gig. You also, have to gain their trust by having a high level of integrity and make sure that you don't exchange competitors' information.
Is it a challenge to create something unique for each brand?
Most companies already have their unique design direction for the season. You just have to know their customer and keep them in mind when following the brand's direction.
You recently launched Sketch-folio.com, and you're a photographer. How do you balance all of that?
I am focused on Sketch-folio.com, but still do some photography on the side. As a creative person with an entrepreneurial spirit, I am constantly trying new things. I love photography and will always make time for it.
What is the premise of Sketch-folio.com?
The fashion industry is very shorthanded these days. There are a lot of design rooms that are doing double work to be competitive in the market. We strive to be the "virtual freelance designers" for them.
We offer hundreds of instantly downloadable flat fashion sketches designed with Adobe illustrator. We sketch current trends and silhouettes, so designers can use them as "templates" in order to create their own looks with their unique prints, graphics and details.
In addition, we also offer custom sketching to clients who have specific jpegs that they need sketched "YESTERDAY". This saves them the extra time and money it costs to call in extra freelance help. They can simply upload jpegs, with their comments and we can usually email their sketches to them within 24 hours.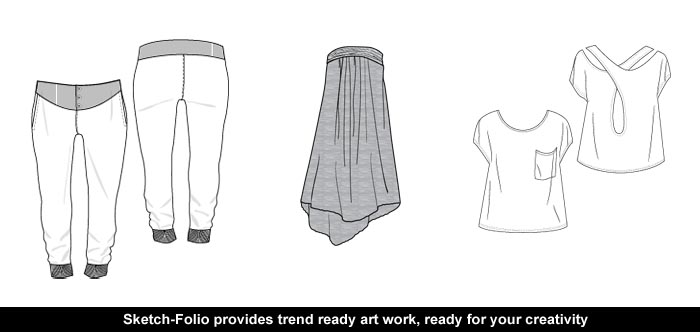 When did you realize there was a need for this type of service?
Freelancing gave me the idea. I realized that I was sketching the same silhouettes for different brands (with their direction). Also, the fashion industry has always used images, jpegs and clothing samples to copy or to create their new styles. Sketch-folio.com can make this easier for them.
Who is your target customer and why does he or she need it?
Overworked design directors and design rooms are our main target customers. We can sketch their magazine tears, jpegs and visions, while they gather more inspiration for their brand. Sketch-folio.com does the "heavy lifting", and the Design director can focus more on direction and multiple new ideas.
Anyone who needs technical flat sketches, but does not know how to use Adobe Illustrator like Production managers or sales reps. Sometimes design students and job seekers also need a little extra help in putting their portfolios together. They can use our sketches as tools, to create their own unique designs.
The holidays are fast approaching and many design rooms get very busy. We would like to help!
Are there any competitors in the market?
I have seen a few sites that offer "clip art" types of sketches that aren't very trend savvy. Also, the available sketches are often saved as .eps files which can be very frustrating to work with if not "grouped" or layered correctly. We only use the industry standard, Adobe Illustrator and are constantly uploading new trends and shapes.
The internet is still an infinitely emerging realm of possibilities. It's hard to know who all of your competitors may be, but for now I believe we are a unique business model.
What are your plans for developing Sketch-folio.com?
We are working on expanding our site to be more instructional, with tutorial videos and sketching tips. We have an eBook in the works and are also going to release some very useful collections of illustrator brushes and swatches for downloading. If you sign up for our newsletter, "Like" us on FB, or follow us on Twitter or pinterest.com, you will be kept up to date on new projects, sketches, and promotions.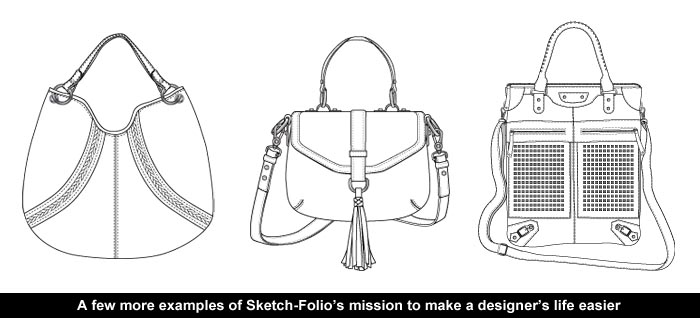 Is there anyone you'd like to give a shout-out to?
Sketch-folio.com is possible from the collaboration of many: Chrissy Decker/ Business Development Consultant, Shannon Loera /Designer Consultant, Marie Aaland/Social Media manager and other designers. Our wordpress website wizards/Jeffrey Zinn and Brandon Dove from pixeljar.net!
If you would like to try out our services, contact us at http://sketch-folio.com/contact-us/ mention "malakye" in the contact form and get instructions on how to get a free download and 20% discount off of your entire first custom order.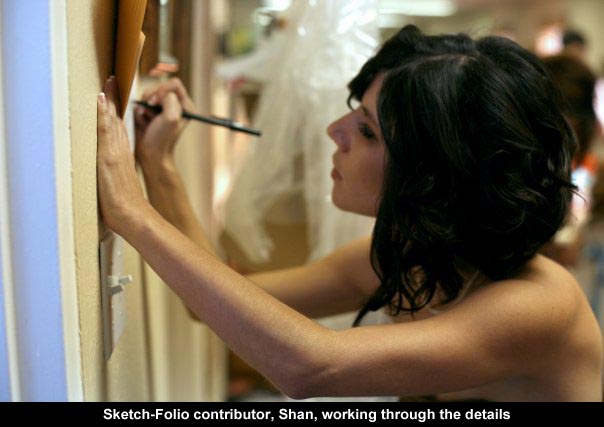 ---