Back to News
B$Z: Ipath presents the Artist Project Collective - Shoe Design Project
October 10, 2011
Ipath presents the Artist Project Collective – Shoe Design Project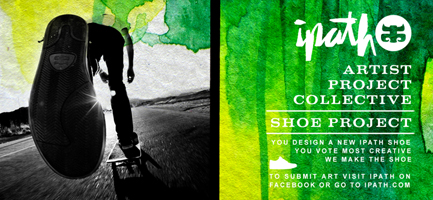 As an ongoing commitment to creativity and skateboarding Ipath has created the Artist Project Collective.

The series of projects will invite artists to get creative and design shoes and graphics for Ipath.

Projects can be submitted to the Ipath facebook page where they will be voted on by other skateboarders.
Ipath will produce the most liked design and award creativity with free shoes.
The series kicks off with a shoe design project.
Simply visit: https://www.facebook.com/IPATHshoes and submit your design.
You can post designs until the end of October.
Get creative and follow your path.

---