Back to News
B$Z: Burton Snowboards & MINI Expand Global Partnership
October 10, 2011
Burton Snowboards & MINI Expand Global Partnership
After a very successful first season working together, Burton Snowboards and car manufacturer MINI are pleased to announce an expanded partnership for 2011/2012. As the foundation of their relationship, MINI will once again be the presenting partner of the Burton Global Open Series (BGOS), one of snowboarding's most progressive competition series that takes place in four countries. In addition to the BGOS, MINI and Burton will also collaborate on more snowboard events throughout the upcoming season.
"It's a pleasure to work with MINI on our key snowboard events again this winter," said Greg Dacyshyn, Chief Creative Officer at Burton Snowboards. "Burton and MINI share a very similar mindset, focusing on functionality and design, while having fun and enjoying the ride along the way. As such, all of us at Burton are looking forward to working with MINI again this year, both on and off the snow."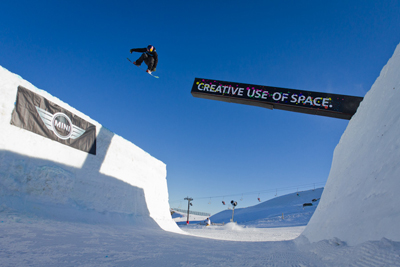 One of the most exciting new events for Burton and MINI is the first ever Burton Rail Days competition, taking place on November 19, 2011 in Tokyo at the Roppongi Hills Arena. The Burton Rail Days event will bring 16 top international snowboarders to the heart of Tokyo for a world-class street rail competition that will award the winner with $15,000 cash. A confirmed rider list and entertainment schedule for Burton Rail Days will be released in early November.
Next up on the event calendar for Burton and MINI is the Burton Super Demo Tour and AM Series, which kick-off in North America in late December/early January. This will be the first season that MINI is on board with these consumer events, which will take on a whole new vibe with next-level product demos, entertainment and amateur snowboard competitions. Dates and details will be released later this fall.
Then in January 2012, MINI and Burton are back to focusing on the BGOS, with the Burton European Open in Laax, Switzerland taking place from January 7-14. The 13th annual Burton European Open (BEO) will feature world-class halfpipe and slopestyle competitions. Also at the BEO, riders will have the chance to compete for the second generation of the Creative Use of Space Award, presented by MINI. This season's Creative Use of Space (CUOS) Award once again draws on the MINI philosophy of utilizing space intelligently. Prize money for the Creative Use of Space Award will go to the male and female riders who throw down the most progressive tricks in the halfpipe and slopestyle competitions at each BGOS event. In addition, the resort crew that builds the most creative CUOS slopestyle feature during the BGOS series will win $5,000. And that's not all. At the end of the 2011/2012 BGOS series, MINI will present a brand-new MINI Countryman to both the male and female overall winners.
In addition to all this, Burton pro snowboarder Marko Grilc will be behind the wheel of a MINI Countryman all this year thanks to his new MINI partnership, and he had this to say, "I'm looking forward to working with MINI this season. Creativity is so important to MINI, and the same goes for snowboarding."
Stay tuned for more information on upcoming Burton and MINI events, coming your way as the snow starts falling worldwide.
---