Back to News
B$Z: Fashion Icon Joins The Wheat Group Advisory Board
October 12, 2011
Fashion Icon Joins The Wheat Group Advisory Board
Mossimo Giannulli Signed on to Serve with the San Diego based Accessories Company
The Wheat Group (TWG) is proud to announce fashion visionary Mossimo Giannulli has joined the company's Advisory Board. As a member of the Advisory Board, Mossimo will provide insight into retail and fashion.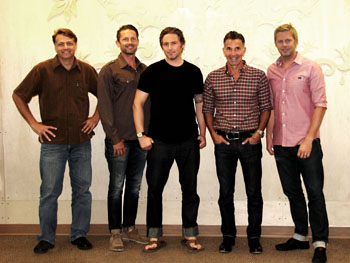 Mossimo started making a name for himself in the fashion industry nearly 25 years ago when he launched a beach lifestyle-inspired line from his dad's garage. Today, the Mossimo brand has global sales of more than $2 million. In 2004 Mossimo took over the then predominantly Japanese menswear-focused line, Modern Amusement, and, true to his Southern California roots, has since transformed the line into a collection marked by bright colors, bold patterns and creative graphics. A majority stakeholder in the company, Giannulli also shepherded the August 2010 sale of Paul Frank Industries to Saban Brands, an affiliate of the Los Angeles-based Saban Capital Group owned and managed by Haim Saban.
"Mossimo has been an important voice in the fashion and design industries for many years now," said Kelly Grismer, President of TWG. "We have loved working with Modern Amusement and always admired Mossimo's direction over the company. We are thrilled to have his creative intelligence and insight into the industry on our board."
Much like Mossimo's journey from home front to store front, The Wheat Group blossomed from a small start-up company, to establishing itself as the premier accessories company. Brothers Chad (CEO) and Kelly Grismer (President) initially launched TWG from their small ocean-front surf and skate shop in San Diego, CA. The third brother, Bryan (CC0), joined in 2000 to oversee and implement the creative direction of TWG, serving as the company's Chief Creative Officer. Today, the company serves nearly every tier of retail distribution and proudly licenses the accessory categories for the following brands: Hurley, Skullcandy, PUMA and Modern Amusement.

---