Back to News
EVENT: Boarding for Breast Cancer Survivorship Fund to Benefit from Series of Fundraising Events
October 14, 2011
Boarding for Breast Cancer (B4BC) Survivorship Fund to Benefit from Series of Fundraising Events
Fashion Shows, Music, Art, Film and More to Support Wellness Programs for Breast
Cancer Survivors Beginning Oct. 19

Boarding for Breast Cancer (B4BC) is proud to benefit from partnerships with Beats for Boobs™, Hellomellow and community fundraisers this month in support of the B4BC Survivorship Fund, a B4BC support program that connects breast cancer survivors with nature-based wellness retreats. The first event, hosted by Beats for Boobs™, takes
place on Oct. 19 beginning at 7 p.m. at the stylish Key Club in Hollywood, Calif. One-hundred percent of the proceeds from ticket sales, merchandise and raffles will benefit the B4BC Survivorship Fund and the BUSTED Foundation. Guests must be 21 and over to attend.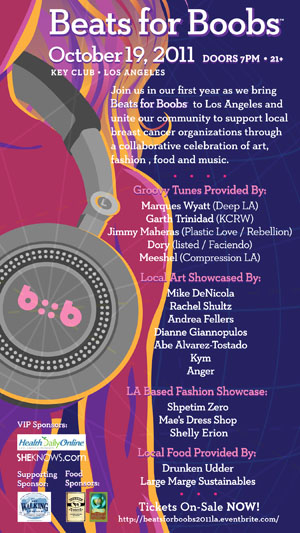 "Through the support of our friends with Beats for Boobs™, we are able to grow a much-needed program for our Survivor community," said Blair Young, Outreach Director, B4BC. "Research has shown that leading a healthy, active lifestyle can significantly reduce the chances of breast cancer recurring, so it is our hope that fund recipients walk away from their retreat experience feeling refreshed, inspired and ultimately empowered with life-skills that will enhance their survivorship and life-long path of healing."
Since 2009, B4BC's Survivorship Fund has connected 14 survivors with ReTreat Yourself, a weekend retreat hosted by The North Face Athlete and B4BC Ambassador Megan Pischke in Beaver Creek, Colo. B4BC continues their partnership with ReTreat Yourself and will be growing
their Survivorship Affiliate program in 2012.
"During my breast cancer treatment I was given the opportunity to participate in ReTreat Yourself 2010. That event changed how I look at life," said Stephanie Phillips, a 29-year old breast cancer survivor and now B4BC Advocate. "Since then, B4BC and the ReTreat Yourself community have instilled in me the strength and encouragement to keep surviving and living life to the fullest."
Tickets for Beats for Boobs™ are available at:
http://beatsforboobs2011la-B4BC.eventbrite.com
and start at $60 for VIP passes, which include exclusive access to the VIP lounge with an elevated view of the fashion show, passed food, complimentary bottle service, one raffle ticket for one-of-a-kind prize packages including two spins on the Prize Wheel. General Admission tickets are $25 and will include culinary delights, fashion show, DJ line-up, art exhibits and one spin on the Prize Wheel. There is also an option to make a donation to B4BC's Survivorship Fund and all donations are tax-deductible.
For information about the event, musical lineup – including KCRW's Garth Trinidad, sponsors and more, go to
http://beatsforboobs2011la-b4bc.eventbrite.com/
.
Following the Beats for Boobs™ event, the B4BC Survivorship Fund will benefit from Billabong's Fashion for a Cure and the Backside Tours Ski and Snowboard Film Festival on Oct. 27 in Alberta, Xtend Barre's Curtsy4theCause on Oct. 29 in Salt Lake City and Flip'd Action Sports Art Showcase in Edmond, Okla. For more details on these events or information on how you can host a Survivorship Fundraiser, go to
www.B4BC.org
.
Supporters can make a difference by purchasing Hellomellow, an all-natural skin care line that donates five percent of every purchase from their Balanced Blend line to the Survivorship Fund. Hellomellow is available at Whole Foods and at
www.hellomellow.com
. A portion of the proceeds from the CCS x B4BC Collection at
www.CCS.com/B4BC
will also be contributed to the Fund.
---