BACK TO NEWS
EVENT: Sick Airness Hits NYC with Burton's Standing Sideways Premiere
Sick Airness Hits NYC with Burton's Standing Sideways Premiere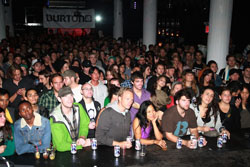 Burton Snowboards hit NYC last night for the big apple premiere of their new movie, Standing Sideways. The snowboard company's latest flick proved to be a crowd pleaser as more than 1,000 fans and snowboarders showed up to see it on the big screen at Santos Party House.
The night was filled with non-stop action, with the Burton team kicking things off with a signing at the Burton Flagship Store in Soho. Terje Haakonsen, Mark Sollors, Mikey Rencz, Kazuhiro Kokubo, Danny Davis, Jack Mitrani, Mark McMorris, Mikkel Bang, Jussi Oksanen and Ethan Deiss were all on deck there to meet fans, take photos and sign autographs.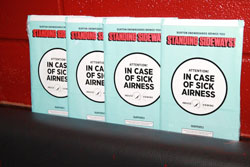 From there it was go-time, with the premiere of the movie at Santos. With a packed and raucous house, the screening was even more amplified by the film's killer sound track which boomed on the club's legendary audio system. After the movie, it was on with Holy Ghost! taking center stage as the start of what would be an insane musical lineup that also featured Roofeeo (TV on the Radio), Uncle Mike, Jasmine Solano and Smoke L.E.S.
Definitely an amazing night all around, and today the team keeps the party going as they head north for the premiere in Toronto.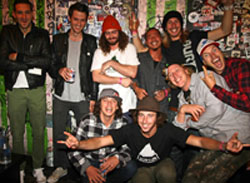 To get your own copy of Standing Sideways, check out your local snowboard retailer or download at http://itunes.apple.com/us/movie/burton-snowboards-standing/id464236935
---