BACK TO NEWS
B$Z: Mountain High To Offer The Los Angeles Features
Mountain High To Offer The Los Angeles Features
The first in the series of four is The Concert Hall Handrail.
Mountain High is proud to announce four new "Los Angeles Features" which will be introduced to their terrain park for the 2011/12 winter season. The Concert Hall Handrail is the first of the four features to be completed. This massive down-flat-down staircase handrail combo is an exact replica of this iconic concert hall rail in Los Angeles and will be a centerpiece of Mountain High's terrain park this coming season.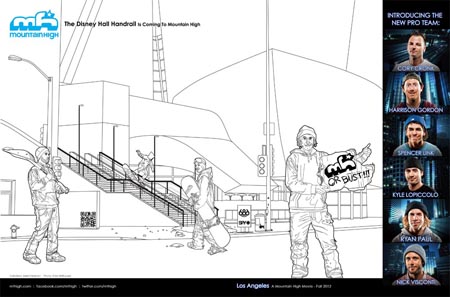 "If you live in Los Angels, Mountain High is your backyard," says Mountain High marketing consultant, Brad Farmer. "So, we thought it would be really interesting to bring iconic features that people would recognize from the Los Angeles area into the terrain parks."
The Concert Hall is at 111 South Grand Avenue in Downtown Los Angeles, California and it has some insane handrails that snowboarders and skiers alike have dreamed of having the opportunity to slide. This coming winter at Mountain High, they can do just that.
"Snowboarding is becoming more accessible and influenced by urban lifestyle," says Mountain High team rider, Nick Visconti. "Bringing the iconic features of Los Angeles to Mountain High is an incredibly creative idea and the epitome of current snowboard culture. I seriously can't wait to ride and film on these new features this winter."
The Concert Hall Hand Rail is just one of four new features that will be introduced at Mountain High this winter. The next three include The Hollywood Wallride, LA Convention Center Rails and The Wedge Quarterpipe.
"I've really been inspired by how close Mountain High is to Los Angeles and how relevant the urban culture is at this particular mountain resort," says Farmer. "When we started planing a new marketing concept and thinking about how to connect the city to the mountain, this whole idea unfolded as if it was meant to be. It's very exciting to see it all coming together and I believe the Mountain High customers are really going to enjoy the new offering."
Look for Mountain High to be stepping up its complete terrain park game this winter. Not only will these new features be in place but the are plans to get really creative with more urban and skate influenced setups including tons of tranny everywhere thanks to their new Zaugg Monster Transition Cutter.
For more information on Concert Hall click here. http://en.wikipedia.org/wiki/Walt_Disney_Concert_Hall
Disney Hall Handrail Stats:
8,000 Pounds of steel

2 Down-flat-down single barrel rails

19" Down, 8" flat, 18" down

12" Between the rails

30 Stairs

48" Gap
VIDEO LINK:
http://vimeo.com/30570690
---