Back to News
B$Z: Blades x Tom Bond x GoodWoodNYC
October 19, 2011
Blades x Tom Bond x GoodWoodNYC
Limited Edition "Classic Monsters" Series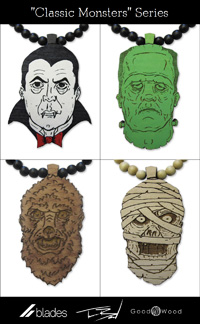 Blades is proud to announce it has teamed up with artist Tom Bond and GoodWoodNYC for an exclusive collaboration featuring a limited edition series of Halloween-inspired wooden necklaces that are an instant collector's item.
The Blades x Tom Bond x GoodWoodNYC "Classic Monsters" Series features four wooden pendants engraved with Tom's detailed illustrations of a Vampire, Frankenstein, Werewolf and Mummy.
Limited to just 50 pieces per design, each pendant is hand sanded and painted, and comes on a hand beaded wooden necklace. Additionally, Tom's signature along with logos from Blades and GoodWoodNYC are engraved on the back of each pendant.
Now available at both Blades locations, each "Classic Monsters" piece retails for $59.99.
For more information, please visit: blades.com | tombond-art.com | goodwoodnyc.com
---