BACK TO NEWS
EMP: John Vance joins SDSI advisory board
INDUSTRY VETERAN JOHN VANCE JOINS SDSI'S GROWING ADVISORY BOARD

Bill Walton, executive chairman of SD Sport Innovators (SDSI) welcomes John Vance, former president and COO of Sanuk, to the SDSI advisory board.

SDSI, a non-profit organization which has become the frontrunner for collaboration, innovation, mentoring and business development across Southern California's sports industry, connects and drives the growth of Southern California's sports innovation cluster - now numbering 600+ action and traditional sports companies, brands manufacturers and products.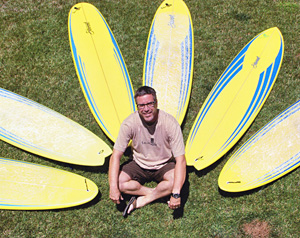 "John Vance is an exceptionally talented and dedicated entrepreneur who brings his vast industry relationships and experience to the SDSI board," said Walton. "His extensive knowledge of building and running successful companies such as Sanuk will further solidify SDSI's commitment to inspire sports innovation in Southern California. He will be an excellent addition to the SDSI board."

"Engaging with entrepreneurs who bring a new and fresh perspective to the market has always excited me," said Vance. "This is the engine that drives America's leadership position in design and innovation worldwide. To be able to help these incredibly creative people as a part of SDSI is both an honor and one of the most exciting things I do."

John Vance has a forty-year history in the action sports business beginning as a surfboard manufacturer in 1970 through his most recent 8 year stint at Sanuk. John left his president and COO positions at Sanuk when it sold to Deckers for $163M last July. In addition to Sanuk, John has been involved with investments, acquisitions, driving sales, industrial design, development, production and marketing for a number of leading companies and brands in the action sports and outdoor markets including OP Sunwear, Airwalk and Quiksilver.

"It's like Christmas morning every time I get to sit in on a presentation of a new idea, product or approach. To also be included in such a great group of industry leaders is also a great thrill as well. I look forward to working with many future leaders as they go through the tough but exciting start-up phase of their businesses and to contribute to the future success of the SDSI organization."

The recent hiring of new SDSI Executive Director Lisa Freedman to build on relationships and penetrate across all avenues of Southern California's sports industry will help to further the SDSI mission to elevate and drive the sports economy.

---