BACK TO NEWS
B$Z: Sitka Uproots For Growth By Opening New Shop
Sitka Uproots For Growth By Opening New Shop
Sitka is uprooting their Victoria flagship store to transplant it to a location down the street. The store, currently located at 538 Yates St., is moving into a larger refreshed space at 570 Yates St. The new 5400 square foot space is home to the Sitka retail store and the first ever Sitka Café, opening on Wednesday October 26th, 2011 at 10am.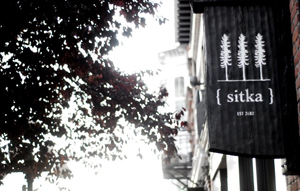 As an opening promotion, Sitka will give the first 12 people to show up at the new location in their underwear a new Sitka outfit to wear out when they leave. The first 12 people to show up already fully dressed in Sitka clothing are welcome to swap out one of their pieces for a new one.
The Sitka retail space showcases the brands surfboards, skateboards and men's and women's clothing collections, as well as pieces from complimentary brands. The clothing is showcased on fixtures built from reclaimed materials. Wood from junkyards and pieces of antique furniture were re-finished for an eclectic but clean aesthetic.
The same look applies to the Sitka Café, which will serve Discovery coffee and healthy foods. The menu was designed with a focus on local organic foods. With a gallery displaying local artist's work, a unique magazine collection and a full front window for people watching, the café will be a comfortable place to spend lunch breaks, evenings or just to grab a quick coffee.
Sitka has also uprooted the skate ramp from the old location. Some alterations have been made to the Skatelite-covered ramp with marble inlay to make it more skate-able. Team members will be welcome to come enjoy the 19'5" long x 16' wide ramp, with 4-foot transitions and a 5-foot extension.
As with all Sitka endeavors, Co-Founders, Andrew Paine and Rene Gauthier, aimed to keep the project as local and sustainable as possible. Employing local carpenters, electricians and other skilled friends to work with the locally sourced materials not only helped stimulate the local economy, but also turned this new store into a family project.
---