Back to News
B$Z: Less Than a Week Left to Vote in Annual Poll at Surferpoll.com
October 24, 2011
SURFER MAGAZINE NAMES "OPERATION AMPED" RECIPIENT OF
2011 SURFER POLL AGENT OF CHANGE AWARD
Less Than a Week Left to Vote in Annual Poll at Surferpoll.com
SURFER Magazine is pleased to announce Operation Amped as the recipient of the 2011 SURFER Poll "Agent of Change" award and beneficiary of VIP table sales at this year's SURFER Poll Awards. The award will be presented on Dec. 6 at the 41st annual event honoring the top 10 male and top five female surfers as voted on by fans, as well as the best of surfing cinematography, video performances, and more. Fans can watch the show in its entirety via a live webcast at Surferpoll.com, which will air live during the Vans Triple Crown of Surfing on Oahu.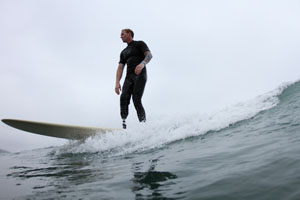 The Agent of Change award recognizes an individual or organization making a difference for the betterment of the surfing community. Operation Amped will join the ranks of Dave Rastovich who received the first-ever award in 2008 for his work with Surfers for Cetaceans, Dr. Dave Jenkins in 2009 for his work with SurfAid International, and the Mauli Ola Foundation in 2010.
Operation Amped, part of Paradox Sports a nonprofit 501(c)(3), is a volunteer-run organization founded by a group of surfers in 2006 as a way to give back to those wounded while serving our country. Their mission is to share a love of the ocean with those who've sacrificed so much. Disabled servicemen and their families are freed of the constraints of illness and injury at Operation Amped events, and though many have never set foot in the ocean, let alone on a surfboard, with the support of the organization, everyone has fun. From Cornwall, England, to Corpus Christi, Texas, to Camp Pendleton, California, they operate their events on shoestring budgets and a lot of stoke.
"We're unbelievably humbled to receive the Agent of Change award," says Operation Amped Founder Tom Tapp. "We owe a huge debt of gratitude to SURFER for the acknowledgement and for their ongoing support of Operation Amped. We hope this award will serve as a reminder of the even greater debt we all owe those who've served our country."
With the voting deadline set for Oct. 31, less than one week remains for SURFER readers and fans to cast their ballots for their favorite male and female surfers at Surferpoll.com.

Sixteen-time men's Surfer Poll winner Kelly Slater hopes to pass his crown to Dane Reynolds, who finished in 2nd place last year, as proclaimed in Slater's 2010 acceptance speech. But whether fans will listen and comply with the request is yet to be determined. Jordy Smith, Mick Fanning, Taj Burrow, Rob Machado, and Joel Parkinson are also consistently top contenders each year.
The women's winner has always been a toss up bouncing between the various women surfers of the moment. Last year, Stephanie Gilmore took top honors for the second year in a row, but who will claim the 2011 title is anyone's guess. Up-and-comers like Carissa Moore and the whole generation of incredible young female surfers will pose a huge challenge to Gilmore's continued reign. The advent of social media has also taken voting to new levels. With surfers launching huge campaigns on Twitter (#surferpoll) and Facebook encouraging their fans and followers to cast their votes, it's really anyone's game.
For all the insider information and updates, follow SURFER Poll (@Surferpoll) on Twitter or log on to Surferpoll.com.
Special thanks to these brands for their support: Verizon Wireless, Skullcandy, Pacifico, Turtle Bay, Red Bull, Kru Vodka and New Era.
---