Back to News
B$Z: Mammoth Mountain Opens the First Pipe of the Season
November 22, 2011
Mammoth Mountain Opens the First Pipe of the Season
Words: Eric Meyers Photos: Peter Morning
The Olympic-size superpipe at Mammoth Mountain opens tomorrow. The 550-foot long, 22-foot tall pipe became the first in the world to open this season, the result of the Unbound Pipe team blowing, pushing, and cutting snow around the clock for about a week.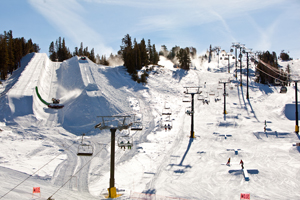 Throughout the process, the industry had been watching the web cams at Mammoth and Copper to see who would finish first, but Mammoth reclaimed the bragging rights for first pipe in the country. The early opening is due in part to the dirtwork that Mammoth did this summer, which allowed the build to proceed quicker than ever. Clifford Mann and the outside operations team at Mammoth moved 35,000 cubic yards of dirt over two months to have the area ready for snow season. The ground underneath the pipe is now at a perfect 18-degree pitch the whole way down, and the walls have a base layer of about eight feet of dirt running under the length of it.
"We're saving snow with dirt, which makes the build much more efficient," said Mammoth Unbound Halfpipe Supervisor William Ganley. "We're spoiled here, and it's great to work for a place that gives you the right tools."
While some resorts are giving up on their halfpipe programs, Mammoth has become a key player in the resurgence of interest in the sport. An effort noted by USSA Course Designer Jake Ingle, who has jumped right in with the team at Mammoth on this build because the pipe will host a Grand Prix this winter. "It really shows Mammoth's commitment to the superpipe," he says, "when they got the Best Pipe award last year, they deserved it."
Mammoth and the USSA have teamed up and combined their unique pipe building techniques to build this superpipe faster and better than ever. "I really enjoy working with the Mammoth crew," said Ingle, "They've been really cool about me coming in here."
This is the one of the earliest pipe openings in the history of Mammoth, ensuring a long season for athletes preparing for the Olympic qualifiers leading up to the 2014 games in Sochi, Russia."Now that it's open, we hope to get the best riders here so we can get feedback from them and keep making this thing even better," said Ganley.
---