BACK TO NEWS
EVENT: Creativity Abounds in SUP Move Video Contest
Creativity Abounds in SUP Move Video Contest
Stand up paddle board already has plenty of variations if you consider surfing, racing, river running, etc. But Boardworks' "What's Your Move?" Video Contest has taken it to another level. See Video Contest (http://facebook.com/boardworkssurf).
In the spirit of encouraging people "to push the boundaries of fun," Boardworks has launched a video contest called "What's Your Move?" where stand up paddle (SUP) board enthusiasts showcase "all kinds of cool moves" on their boards. And here is the kicker. It doesn't have to be in the surf, flatwater, river, or any particular venue or format. Got a move? Submit it and see how you stack up against the other "sup acrobats." Now for those out there without sup tricks under their sleeves, this is a rare and unique opportunity to check out the videos, get ideas, and try those moves on your own – a sup skill self-assessment test if you will. (Assess your SUP Skill now: http://facebook.com/boardworkssurf)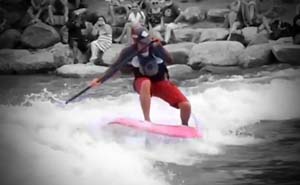 And there is no excuse not to participate. Just check out some of the stand up paddle board moves already submitted. Phillip Rainey, also known as the "Gray Wolf," has submitted moves performed on a lagoon and some even on his pool. That's right, his pool. One of the moves that has gain some sort of notoriety is the "Ghost Paddle Transfer." Here the paddler goes for a quick pivot turn with the board while shooting the paddle in and out of the water and around his back. It doesn't take expert skill-levels to perform this trick. But the move can certainly be more difficult than it meets the eye. And the "Ghost Paddle Transfer" is just one of many. Expert surf moves, wake riding, and helicopters are some of the other impressive submissions.
The SUP Move Video contest is in its final days of the open rounds. Public feedback and judges are now determining the stand up paddle board moves that will be advancing to the final. Winners will walk away with some great prizes, including an inflatable stand up paddle board, paddles, team gear, and more. Rally the troops, pull your sleeves, and see if you can meet the Boardworks challenge of pushing the boundaries of fun on your stand up paddle board. Whether you have the moves, the skill-level, or the creativity, this video contest can inspire you to try different tricks and get you thinking about all the different ways of enjoying yourself on a stand up paddle board. (Visit "What's Your Move?" Contest Page: http://facebook.com/boardworkssurf)
---