Back to News
B$Z: Surfboard Rack Company Pushes into New SUP Territory
December 8, 2011
Surfboard Rack Company Pushes into New SUP Territory

The first company to build eco-friendly modular surfboard racks takes its ambitions out of the surf, but not far from the water. Company's owner is confident that new products will prove worthy among enthusiasts of one of the fastest growing sports.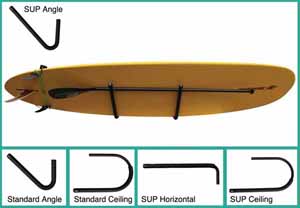 Nice Rack, the company that brought you the first modular line of surf, snow, and wake racks, is proud to announce their new line of Heavy Duty surf racks. Designed to hold even the heaviest stand up paddle and longboards, these racks are made with super strong steel and covered by soft protective nitrile foam. The final product is the perfect blend of strength and style.
Stand up paddle boarding is the fasted growing water-sport in the world and its expanding consumer base demands specific products. Unlike your typical surfboard, stand up paddle boards (SUPs) are huge and take up a lot of space. According to Nice Rack owner Michael Russell, "A 'Nice Rack' works really well to store these over-sized surfboards." He adds, "We feel there is tremendous opportunity for new business in areas of the country previously untapped. As the sport grows among water-sports enthusiasts, so do our sales."
Stand-up paddle boards are indeed far heavier, longer, wider and thicker than the average surfboard. They are also quite the investment; prices range from $400 to more than $2,000. Nice Rack's Heavy Duty Racks are designed with the SUP investment in mind. Built strong and stable, these sturdy steel racks are more than capable of supporting even the largest SUP boards. Even those with rails up to 6" thick.
Covered with high quality nitrile foam for protection and powder-coated black, these racks are both functional and good looking. They can be used both indoors and outdoors. Russell says that these materials proved the best in testing because, "The rack is soft enough to cushion a board but rugged enough to endure the elements." As a stamp of quality, each rack is branded with a Nice Rack vinyl end cap.
What the SUP enthusiast will get when they purchase the Heavy Duty Rack is a ready-to-go set of racks with heavy duty mounting screws. Customers may choose from three variations: Angle, Horizontal, and Ceiling. Each style suits a specific purpose. The Angle is designed to maximize space and tuck the board close to the wall at a 45 degree angle. It extends only 18 inches from the wall. The Horizontal version helps make loading and unloading easy and can be placed high on a wall or over doorways. Ceiling Racks mount to overhead rafters, great for narrow garages, leaving room to park your vehicle underneath. All three design variations maximize storage space providing relief for those worried about bringing such a large board into their home.
Nice Rack Heavy Duty racks are now sold in addition to their existing line of Modular Racks, known as Green Surf racks made from 100% recycled plastic. Both product lines are distributed throughout the USA and Europe. Visit http://www.thenicerack.com for more information. For European wholesale inquiries, please contact Left Point Distribution: [email protected] or visit:http://www.left-point-distribution.co.uk
---