Back to News
B$Z: Mammoth Mountain Pays Tribute to Jamie Lynn with the 2011/2012 Art Park
December 13, 2011
Mammoth Mountain Pays Tribute to Jamie Lynn with the 2011/2012 Art Park
Mammoth Mountain and the Unbound Terrain Parks are happy to announce the opening of this season's art park on December 17th, featuring the work of legendary snowboarder, artist, and musician Jamie Lynn.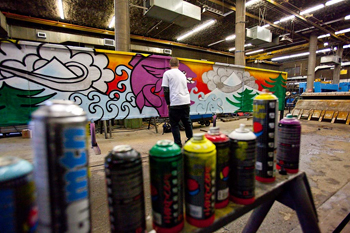 The Art Park at Mammoth was introduced last year with works devoted to the life and memory of the late Jeff Anderson. This year's offering focuses on a single artist who is deeply ingrained in the snowboard industry— Jamie Lynn. Jamie's artwork will be placed along a ski trail and on the sides of rails and boxes to create this dynamic, living gallery. Ten brand new rails have been created by Mammoth Unbound fabricator, Dustin Del Giudice, and adding to these new features will be a few select favorites from last season's Art Park.
"I'm honored to be chosen as an artist and snowboarder to be part of something that combines my two passions into an on-hill gallery," said Lynn. "Having Mammoth start with the JLA Art Park and continuing to support the arts with this new project is a great way to further the legacy and spirit of Jeff Anderson."
In addition to the ride-able works of art, the Unbound Terrain Park team will build snow features throughout the trail inspired by Jamie Lynn's personal riding style. Check your gloves at the entrance and keep an eye out for jumps, hips, and banked slalom-style berms.
Jamie Lynn literally jumped onto the scene of professional snowboarding in Standard Films TB2, and quickly became known for the smooth style in which he brought tricks from the park into the backcountry. Tricks that he once pioneered— like tail taps and frontside spins off-the-toes— are popular as ever today. His legacy also continues to thrive through his art, and the music of his rock band, Kandi Coded.
The opening of the Art Park coincides with Mammoth's Night of Lights Weekend. Join us on Friday, December 16th for an artist reception party at Hyde Lounge, and then come up to the mountain on Saturday to be one of the first to ride these one-of-a-kind features located in South Park. Saturday night offers a fireworks show and a free concert from New Zealand indie-pop rockers The Naked + Famous, with several afterparties to follow in The Village.
---