Back to News
B$Z: Winter X Games Gold Medalists Torstein Horgmo and Andreas Wiig to Launch AWSM
December 14, 2011
Winter X Games Gold Medalists Torstein Horgmo and Andreas Wiig to Launch AWSM: A Performance©\Level, Lifestyle Accessories Company
Iconic AWSM Sticker Evolves into Full Line of Products this Spring
Pro Snowboarders Torstein Horgmo and Andreas Wiig have announced the launch of their new company, AWSM, a performance lifestyle brand that generates performance©\level and quality accessories for the active individual, without sacrificing fashion and comfort. The iconic AWSM sticker, which has popped up all over the action sports scene over the last two years, has evolved into the first generation of products that will make a statement in any sport. AWSM gear will include high©\end lifestyle and performance belts, wallets, skate tools, hats and hoodies in a variety of fun colors and materials, and will be available in the U.S. market beginning March 1, 2012.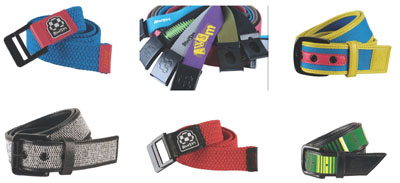 AWSM accessories come a variety of bright, fun colors to make a statement in any sport or occasion of choice.
¡°Andreas and I wanted to create a brand that would not only make quality products that look and feel good on, but that would also reflect how much fun we have riding with our friends,¡± said Horgmo. ¡°Performance is a state of mind and when you look good and feel good, you¡¯ll have more confidence whether you¡¯re competing, filming or riding with friends for fun ¨C no matter what sport you choose.¡±
Wiig added, ¡°AWSM is all about friendship and having fun. Torstein and I wanted to use our experiences to develop products that would be comfortable and make you look good out there, without losing focus on quality and performance."
The AWSM brand transcends the lines of any sport, so whether you¡¯re skateboarding, snowboarding or riding a BMX bike, AWSM will be flexible with your every move and adjustable to fit any part of your active life.
Join AWSM team riders Ryan Decenzo, Scott Decenzo, Torstein Horgmo, Andreas Wiig, Mark McMorris and Craig McMorris in the countdown to AWSM¡¯s launch, as it makes its way to your local skate shop and online channels this Spring.
Visit www.AWSMBRAND.com for more information and to see the full line of products.

---