Back to News
B$Z: FMF Apparel Signs Davi Millsaps To A Multi Year Deal
January 4, 2012
FMF Apparel Signs Davi Millsaps To A Multi Year Deal
*The first move in a series of gamechanging initiatives, FMF Clothing will officially be backing Davi Millsaps, starting at Anaheim 1 in 2012.
FMF Apparel is deepening its ties to Supercross and Motocross with the signing of 25 year old veteran, Davi Millsaps, who will also be the racing counterpart to James Stewart and the premier JGR MX team (Joe Gibbs Racing). Davi will be representing FMF Apparel and FMF Racing Exhaust. As part of the agreement, Davi will be wearing all the newest FMF Apparel, customizing his own FMF themed Bell Helmets and bike graphics, as well as developing his own FMF "DM18" Signature Series of clothing, which is already underway and in development.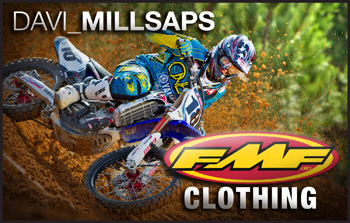 FMF's Marketing Director, Donny Emler Jr. said: " I think having such a naturally talented rider such as Davi Millsaps is going to be great for the FMF Racing and Apparel brands. FMF started supporting Davi when he was winning Loretta Lynn's on a 65cc and to still be able to work with him is great. We look forward to a great year with Davi and JGR"
Davi himself had this to say: "I'm so pumped to be a part of FMF clothing! I look forward to a great race season as well as a solid relationship with the FMF crew."
Davi has won nine amateur national MX titles, a Lites Supercross Championship, multiple wins in the premier class, along with numerous podium finishes. He's been training particularly hard for 2012, elevating his physical fitness and his mental focus to a new level.
"Davi is fit, focused and ready to go. He IS American Motocross and that's what FMF is all about. We couldn't be happier about building upon our long time relationship with Davi by supporting him with a full apparel program." Said Brian Jellig, FMF's Apparel Marketing Manager.
FMF, Davi Millsaps and team JGR can be seen this weekend for the first time, looking to podium at the AMA Supercross Championship Series on Jan 7, 2012 at Angel's Stadium in Anaheim, CA.
---