Back to News
B$Z: FMF Apparel Signs Destin Cantrell
January 9, 2012
FMF Apparel Signs Destin Cantrell
FMF Apparel is further deepening its ties to Motorsports with the addition of young Freeriding/FMX guru, Destin Cantrell.
Destin has been riding since he was 4 years old, participating in local so-cal races. He continued racing until age 15. It was at this age that Destin was first introduced to hitting a ramp and once he did, he never officially went back to racing.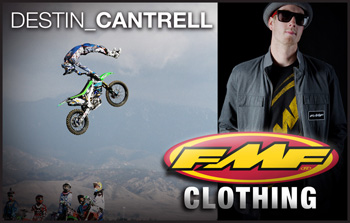 Now, at age 22, Destin has earned a reputation as one of the world's most stylish freeriders in the game. His variety and tweaks on whips are world class and his flexibility on all his other tricks are very noticeable and quite impressive. Coupling his skills on the bike with his natural humble character and positive attitude makes him a great role-model for the youth as well as a crowd favorite at events.
FMF's Marketing Director, Donny Emler Jr. said: "Destin has a great image that fits the FMF Brand as a whole and when it comes to style and freeriding I don't think anyone has better style, Destin shows the progression that the FMF brand embraces"
When it comes to FMF and Destin, the two have been working together for many years when it comes to the exhaust & pipes but now, Destin is signed on as one of the lead team riders for FMF Apparel. The FMF brand intends to utilize Destin's direct input on key apparel pieces and draw inspiration from his experiences and translate it into new, upcoming FMF products.
Destin himself had this to say: "I am more then pumped to be a part of the apparel side of FMF now. Being on the pipes for so long I've got to see how much the company is a family and represent their name so good. I'm blessed to have the opportunity to grow along side FMF apparel."
---