Back to News
WEB: Synergy Reps Launches Next Generation Website
January 17, 2012
Synergy Reps Launches Next Generation Website to support their retailers

Repatron and Synergy Reps jointly announces their collaboration on a new way to support retailers in Action Sports. The new web app is online at http://www.synreps.com and is available on Facebook at www.facebook.com/pages/Synergy-Reps/220800594664536 .

"I was stoked to connect with Peter Pawlus & Repatron," says CM Slocum, Principal of Synergy Reps. "Repatron is way ahead of the industry trend of connecting Manufacturer Reps to the dealers in their territories with the fast pace social network and online future potential of reps selling and servicing their dealers with web based tools. With my action sports background and Peter's outdoor and technical background it's refreshing to weave through the conversation of our recent trips, adventures, or events laced up with some techno business to build the dealer content rich website for Synergy Reps. Finding that common thread of interest with your technology guru is huge. Repatron has helped position Synergy Reps ahead of the status quo with our competitors."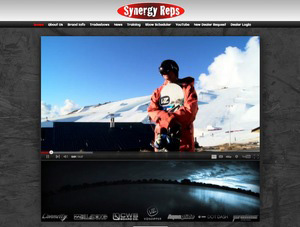 "Synergy Reps rocks." says Peter Pawlus Principal at Repatron. "They work hard and play hard. CM didn't hold anything back and wanted state of the art for his dealers. They have the REPatron Next Generation platform as well as on Day 1 their Dealer Only site plus the REPatron Facebook App. It's been exhausting. They are definately a positive force for their manufacturers. As Repatron is built using the latest Google technology, it is easy to work with and is quickly searchable with search engines like Google. Synergy Rep's site has a rolling video wall of action athletes and brand features. www.synreps.com is a site where we were able to incorporate several web apps and the latest learnings we have from a technology and an outdoor sales agency perspective. The ability to learn and then rapidly incorporate improvements into the Repatron sites gives us an advantage over the older build it and watch it rot websites."
"At this point, every rep/sales agency should have a website. That is the new minimum in the industry. You then step above your peers when you add dealer support functionality to an already professional branding website. If done properly with a service like Repatron, it adds a new level of professionalism to reps and sales agencies and provides a higher level of value-add for their retailer customers."
Repatron features included in www.synreps.com
* Customized look and feel for Synergy Rep's web site to reflect their Action Sports focus
* Rolling Video wall that features Action Sports athletes and brand features
* Custom image map of brands that highlights their brands
* Trade show scheduler for that allows retailers to see available scheduling slots for the agency and reserve the necessary time to see the latest products at the show.
* Trade show listing page with details for the shows.
* News & Reviews section with the latest happenings in the marketplace for the brands represented.
* Retailer Training section with links to training videos and online courses.
* New Dealer request form - to help pre-qualify legit new retailers from "I just want to pay wholesale" losers
* Matching YouTube Channel that features rich media training and reviews of Synergy Rep's brand partners
* Separate brand pages to give background on the brands as well as brand social media links and any B2B links for the dealers
* Support for the iPad as well as iPhone and Android phones.
* 6 months of included real-person Repatron support and updates.
Repatron is headquartered in Sarasota, FL. Repatron provides an affordable and innovative independent sales rep system built on the scalable and industry-proven Google Application platform. It incorporates common outdoor sales rep required features. A unique brand specific shared resources area leverages the collective power of Repatron-enabled reps to keep the dealer only areas fresh and up to date. Repatron allows the rep to "Sell More & Fumble Less" in producing material required to get their job done and the orders in.

---