Back to News
B$Z: Arnette Launches Uncommon Projects Division With Devun Walsh Signature Goggle
January 17, 2012
Arnette Launches Uncommon Projects Division With Devun Walsh Signature Goggle
Arnette's Uncommon Projects division features signature pieces that tell a unique story, commemorate a partnership or reflect the personal style one of the company's notable athletes. The first debut from Uncommon Projects is a new version of their top-shelf Mercenary goggle, designed in conjunction with Devun Walsh, Team Captain of Arnette's global pro snowboard team. A late release for the current snow season, each of the Uncommon Projects pieces is limited in quantity and can be found exclusively at Arnette's most elite retailers across the globe.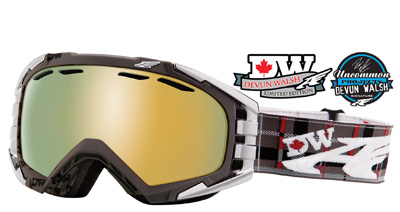 Devun's imprint in snowboarding is undisputed and he was one of the first additions to Arnette's snowboard team when the program relaunched in 2011. Devun told the design team at Arnette that he wanted a goggle with the elite tech features of the Mercenary, but also incorporating the iconic chrome pieces from the brand's heritage and currently featured in the Series 3. With a resounding 'Hell yeah!' Arnette's design team got to work, throwing in the chrome pieces and adding a signature 'DW' hit, complete with a maple leaf embedded into the 'D', on both the strap and frame.
"I'm so amped to be on Arnette right now. They have such a rad history in snowboarding and I'm hyped to be a part of the rebirth. Being able to contribute to the Uncommon Projects division is really cool too. The goggle came out amazing and I'm stoked to rock it!" commented Walsh.
The Arnette Uncommon Projects Devun Walsh Mercenary is shipping right now to finer snowboard shops across the world. Dealers looking to carry pieces from the Uncommon Projects division for this season should call their rep ASAP or place orders during SIA. Once they're gone, they're gone.


ARNETTE LAUNCHES DEVUN WALSH SIGNATURE GOGGLE from Arnette on Vimeo.
More information on what's happening with Arnette can be found online through Arnette's multiple Web presences.
www.arnette.com | www.facebook.com/arnette | www.twitter.com/arnette
---