Back to News
Ted Shreds Q&A With Founder Edward Hennessey
January 18, 2012
TED SHREDS
In 2004, Edward Hennessey had an idea pop into his head – candles that smell like surf wax, and primarily marketed to men who surf. It's now eight years later, the product is sold in more than 650 stores within the U.S., it's distributed in 10 countries, the company recently expanded its line by adding air fresheners, and relocated headquarters from New Jersey to Southern California. Things are happening at Ted Shreds. Founder Edward Hennessey shares more about the story behind Ted Shreds.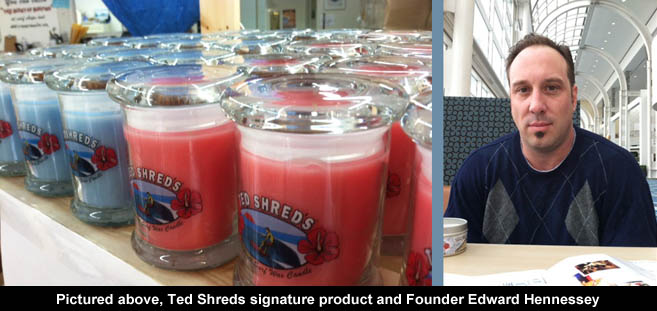 Candles, how did you come up with the idea to create the world's first Surf Wax Candle?
I had just read an article about how large the candle business was globally. I think it was a couple of weeks later I smelled that original coconut surf wax scent and I thought, "If you could make a candle that smelled like surf wax that would be one of the best smelling, coolest candle concepts in the world."
Where are your candles made?
Our candles are made in one of the largest candle manufacturers in the United States. We have been with the same company since the beginning and are very proud to have our product American made. Our manufacturers product is amazing and they have the ability to produce up to 100,000 units a day, which we hope to utilize in the near future.
What's been your biggest obstacle in running a candle brand?
There are many obstacles that a company like this faces and continue to face on a daily basis being the first to introduce a product like this to a specific market. What do they say, "Pioneers get arrows in their back." In all seriousness, it was more involved than we initially anticipated with finding the right manufacturer, to developing the scent. We got a lot of resistance from shops in the beginning that didn't understand the product, we got resistance from labs; needless to say they are all very strong believers now.
The Company was born in New Jersey but is now based in Sunny Southern California? Why the change in locations?
When I founded the company I was living in New Jersey. I felt it would be a good strategic location to launch a unique concept brand outside of the influence of Southern California. My thought, let's come out of left field and let everyone figure out that candles are really cool when Ted Shred's is making them. We also recognized that we would need time to develop the product, market it and distribute it before the anticipated competition began introducing like products.
About a year and a half ago we entered our second phase of growth and moved west to sunny southern California to deliver our product more effectively and stay tan.
In your latest catalog you have some natural candles, is this your way of going green?
I'm not real huge on "going anything", but yes the natural line fills the need and demand for more environmentally conscious products. This line is selling extremely well and we're very proud of how nice the product looks. The candle is made with a high quality soy wax blend and this particular product has helped people with certain allergies that act up with paraffin candles to enjoy the luxury of "The Scent of Surfing" through our products. We've been told quite a few times that our products have a certain hypo-allergenic quality that our customers seem to enjoy and appreciate!
Along with the candles you also sell Air Fresheners, was that a natural progression for the brand?
Yeah, the air fresheners were definitely a natural extension of the line and lifestyle. We actually almost scrapped the project because getting the scent characteristics right was driving me nuts after about 10 months of going back and forth. I'm sure glad we stuck it out though, as these are becoming a bit of a pop culture phenomenon. We thought a couple of people would add them to a candle purchase here and there, but they have become one of our best selling products.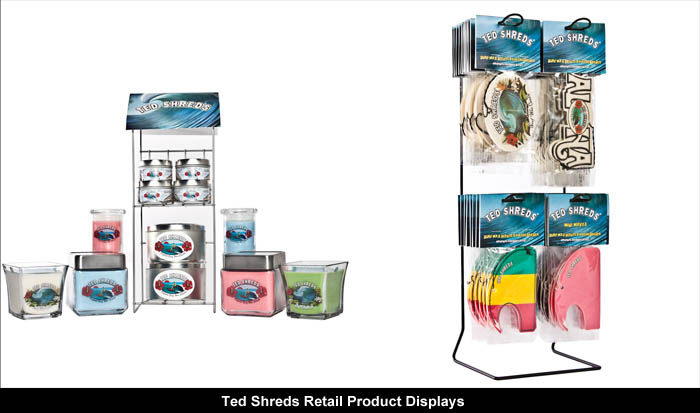 How many doors are you currently in?
We are in approximately 650 retailers domestically with new accounts calling us on a daily basis to get the product. These doors are primarily surf shops, with the occasional Four Seasons Resort or boutique like The Webster Miami, where they sell $30,000 Gucci suits for good measure.
Within the Action Sports World there is the element of being the first to market with a product, has this helped the brand stay ahead of the competition in this category?
Being the first and the best is always a major competitive advantage. As long as you can meet the challenges that come along with being first (i.e.: resistance to product / concept) and grow from them you take away some valuable lessons. We're definitely recognized for being the creator of this market. We're definitely stoked we were the first to market with such a broad appealing, consumable product that represents this lifestyle that so many people are interested in.
You currently have a handful of team riders supporting the brand, is there going to be any expansion on this as the company grows?
We definitely intend on giving back to surfing in the form of sponsorships. We are very selective with who we work with and prefer good fits and long term relationships over a deep roster of kids selling our gifted goods for who knows what. That being said, people like Peter Mendia and Nage Melamed have been representing the brand since the beginning and we like it that way.
I'm sure over the years you have heard many a person tell you stories about what they used their candle for besides making their home smell like a tropical paradise, any stories you can share?
We've heard some great stories, and definitely some funny, sometimes very weird ones at that. We've been told that guys on surf trips have heated food over the flame. There's always the stories of Ted Shred's being a part of someone's romantic encounter, which always makes us feel happy for everybody. Incidentally, and on that note, we'd like everyone to know that Ted Shred's is the first candle company in history to successfully market our product to men.
Is "The Scent of Surfing" just in the US or has that intoxicating aroma been shipped overseas?
We export to 10 countries outside of the US with our strongest international presence being in Europe. We are in around 100 retail doors internationally and actually we just completed a distribution agreement in Brazil that we have been working on for the last 4 months that will bump our international door count up to 150 and 11 countries.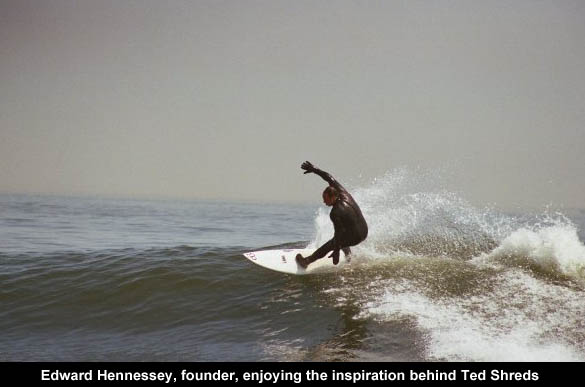 ---