Back to News
B$Z: Legendary Film Maker Jack McCoy Wins Best Documentary
January 23, 2012
Legendary Film Maker Jack McCoy Wins Best Documentary
and Receives Life Time Achievement Award at the X-Dance Film Festival

After a career spanning over 40 years, award winning film maker Jack McCoy was the guest of Honor at this year's 12th annual X-Dance Film Festival, where he screened his latest feature film on surfing A Deeper Shade Of Blue. X-Dance took place in Salt Lake City and this year had a amazing line up of the best of action sports films. A Deeper Shade of Blue is McCoy's 25th film on surfing which took almost 5 years to bring to the big screen. Jack McCoy, a multi talented Director, Producer and Cinematographer focuses on Hawaiian Surf Culture's deepest roots, the evolution of the surfboard, and the Polynesian Creed of Aloha in this new film A Deeper Shade Of Blue.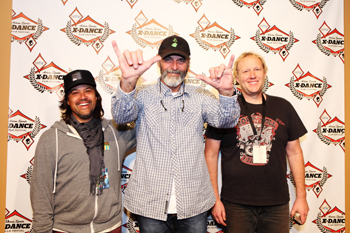 "Growing up in Hawaii I had a real connection with my Hawaiian friends and thru their family members they taught me everything from surfing, body surfing, pipo boarding, diving, fishing, sailing and canoe paddling, all things to become an all around waterman. ADSOB is the sum total of my lifes work. It was important to me to create a film that shared were surfing came from, what it means for a greater appreciation for the art/sport," said McCoy. Now the film has won the top prize as Best Documentary at the 2012 X-Dance Film Festival along with McCoy's Life Time Achievement Award.

McCoy's lifes work started as a poster grommet for film makers like Bruce Brown, Greg McGillivray and Jim Freeman. After going to Australia for the world surfing contest he began distributing surfing film around the country and in 1975, with Australian Dick Hoole, he made his first feature length surfing. Jack's background also included marketing direction and projects for all of the big three surfing companies Rip Curl, Quiksilver and Billabong. Some of his films have included Storm Riders, Kong's Island, The Green Iguana, OCCY The Occumentary and the award winning feature Blue Horizon staring Dave Rastovich and the late great Andy Irons.

The X-Dance Life Time Achievement Award in the past has been won by iconic surf film maker Bruce Brown (Endless Summer) and skiing film guru Warren Miller. So McCoy is a perfect recipient to carry on this honored achievement at a film festival that continues to herald the work of action sports film makers. Always one to created new and exciting angles for the surf, Jacks dream came true with the discovery of an underwater jet ski that would travel 10 knots. He mounted his camera to the top of it and became the first to capture the action underwater behind the wave tracking the surfers like never before. "I used to sit there underwater behind the wave waiting for some sort of action to go by, hoping I was in the right place. With this scooter I was able to move around, get to places quickly and follow parts of the ride at will. It was really a way I could capture images I'd only dreamed of for many years."

It is with this jet ski that the most incredible footage is highlighted in A Deeper Shade Of Blue. After licensing a song for ADSOB by Paul McCartney, the Beatle contacted Jack asking if he'd like to collaborate with a new song he was releasing using McCoy's unique images. The result was the 5 minute music video BLUE SWAY, seen online my millions around the world. "Getting a lifetime achievement award is very special however I don't want anyone to think I'm moving into retirement. I've got the stoke and energy of a teenager and plan to keep shooting till I drop. Capturing the beauty I get to see has been my lifes work and I'm not going to quit doing what I love now."

A Deeper Shade Of Blue begins its Australian Theatrical Release in March 2012 and the USA in mid to late summer. Congratulations to Jack McCoy on A Deeper Shade Of Blue and his Life Time Achievement Award at X-Dance. The Film has also won Audience Awards at the Maui Film Festival and Durban International Film Festival. Go to www.adeepershadeofblue.com for screenings near you.


---