Back to News
B$Z: Evolution and Awards for High Society
January 23, 2012
Evolution and Awards for High Society
Nine years ago, a group of friends spent their days on the slopes of Aspen and their evenings tuning and selling equipment. Frustrated by skis and boards that fell apart as the season unfolded, they hatched a plan to create products that could withstand spending every day on the mountain. Since then, they've built a brand that's won numerous awards and developed a reputation for a streamlined collection of premium equipment and apparel.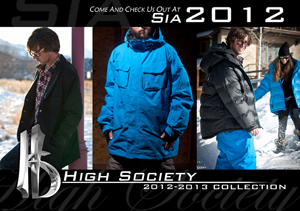 "In 2003, Reggie Charles, Jeremy Rungi, and I were working for a local shop," explains High Society cofounder Jason Flynn. "We were shredding pow and park every chance we got and spending all of our money on gear." As the season progressed, however, much of this gear fell apart. "Almost nothing in the industry was tough enough for the local Aspen crews," explains Charles. "We saw a need for better boards and skis that guys like us could get behind." After the three pooled their meager savings to make a few boards, High Society was born and it hit the ground running.
Through the years, the brand has grown while remaining focused on crafting premium products. In 2008, High Society began partnering with Never Summer to manufacture its skis and boards, both of which feature Never Summer's patented Rocker Camber technology. According to Never Summer Cofounder Tracey Canaday, "We had a lot in common, so we thought it would be a good fit." Both companies, he notes, "focus on a premium product with exclusive distribution." Recently, the brand unveiled an outerwear collection. For High Society, this focus on premium products helps ensure that the brand is constantly evolving. Next year, for example, much of High Society's outerwear will rely on Cocona fabrics to provide even greater waterproofing and breathability.
Whether crafting skis, snowboards, outerwear, or streetwear, the brand remains committed to creating a streamlined collection of products. "Our goal is not to have a big line," offers Charles, "but to make pieces that you will want to reach for every morning when you start your day, whether you are going riding, going to work, or relaxing."
High Society, however, resists being defined by the products it creates. "We like to look at High Society not as a ski company, not as a snowboard company, not as a clothing company, but as the first true freeride lifestyle brand," offers Charles. For Flynn, the freeride lifestyle is defined not by the terrain one rides, but by "a passion for living life to the fullest—be it in the peaks or the streets, beaches or clubs." This passion serves as the unifying force for a team that includes snowboarders, skiers, skaters, surfers, and downhill bikers. Throughout the year, the brand also sponsors events that are just as likely to take place on the beach as in the mountains.
Recently, the company's FR Rocker Ski earned an Editor's Pick award from Freeskier magazine after attaining the highest score in its test of men's microbrew skis. The ski's cambered cousin, the FR, earned a Tester's Choice award from Skiing magazine. Meanwhile, its boards continue to generate a following among shop kids. Following in the footsteps of the brand's founders, they devote their days to terrorizing the mountain and spend all of their wages on gear. Fortunately for them, this gear now lasts.

---