Back to News
B$Z: Arnette Releases New Uncommon Projects Division Goggle With Del The Funky Homosapien
January 24, 2012
Arnette Releases New Uncommon Projects Division Goggle With Del The Funky Homosapien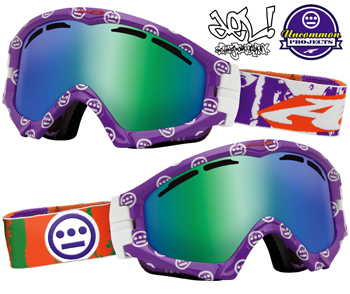 Arnette is bringing the the funk to their Uncommon Projects division with a new snow goggle in a collaboration with the Funkman himself, Del the Funky Homosapien. A limited edition, late release of their Series 3 goggle, the goal was to create the funkiest snow goggle in the lineup for the legendary artist and long time Arnette family member.
The Del x Arnette Uncommon Projects goggle features a repeating Hiero logo on the frame, funkified strap with both the Hiero and Arnette logos, and an aqua chrome lens.
"This is going to look good out on the slopes, Series 3. That's what you SERIously need, some Series 3's. That way you ain't gonna hit no trees, I like these. You're gonna see me with these on, all me, Series 3. Go get your own," commented Del.
Arnette's Uncommon Projects division features signature pieces that tell a unique story, commemorate a partnership or reflect the personal style of one of the company's notable athletes. The Del x Arnette Uncommon Projects goggle is dropping on the heels of Arnette's first Uncommon Projects release for the Team Captain of Arnette's Global Pro Snowboard Team, Devun Walsh.
"Del has been a part of the Arnette family for a long time and he has a serious fan base in the world of snowboarding. There's no better way to celebrate all of that than with a signature goggle color. The colorway had to meet the highest possible funk-standards, so we developed a graphic that was inspired by some of his early album art, complete with Hiero logo repeat pattern and strap patch," stated Arnette's Global Brand Director, Joe Freitag.
The The Del x Arnette Uncommon Projects Series 3 is shipping right now to elite snowboard shops across the world. Dealers looking to carry pieces from the Uncommon Projects division for this season should call their rep ASAP or place orders during SIA.
More information on what's happening with Arnette can be found online through Arnette's multiple Web presences.
www.arnette.com | www.facebook.com/arnette | www.twitter.com/arnette
---