Back to News
INSIDE Outside Magazine's Best Places to work issue with Michael Roberts, executive editor.
January 25, 2012
INSIDE Outside Magazine's Best Places to work issue with Michael Roberts, executive editor
This summer, Outside Magazine will release its fifth annual Best Places To Work issue. The list features companies ranging from likely suspects such as Deckers, Nixon, Volcom, Patagonia and more of the Outdoor and action sports industries' finest to unusual suspects such as Chesapeake Energy, an oil and natural gas provider. Malakye.com had an opportunity to ask Outside's Michael Roberts, executive editor, five fast questions about the Best Places to Work issue. Read what he had to say, then then go to http://www.bestplacestoworkoutside.com to put your company's name in the hat.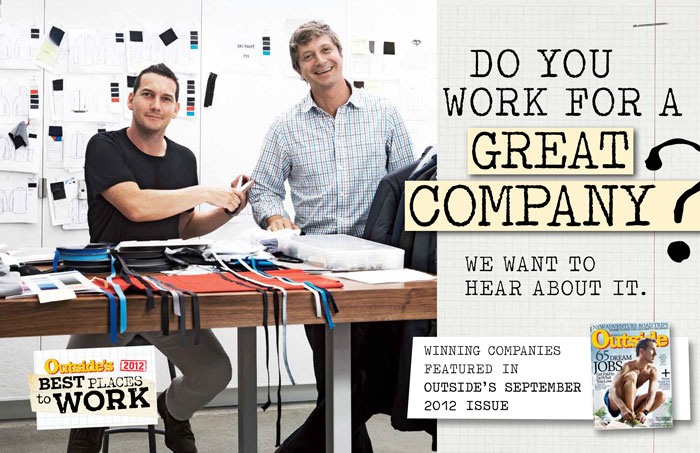 Have you heard any particularly wild or inspiring stories as a result of the Best Places to Work issue?

The best stories come from readers who've landed positions at the companies on our list. There was this one guy living in a big city on the East Coast who hated his job and always dreamed of a different kind of life in the mountains. He scored a great gig in Boulder, Colorado, with one of the companies on our 2009 list and wrote us the nicest letter. Those kinds of of tale keeps us really motivated.

Is this feature / story one of the most popular of the year for Outside Magazine?

Absolutely. The 2011 edition, which was the September cover story, was our best-selling issue of the year.

Are the evaluation criteria fair to both large and small companies?

We work really hard at this with our independent research partner, the Best Companies Group. The evaluation is quite extensive, involving both a long employer questionnaire and confidential employee surveys. The goal is to make sure the process reveals the best in all kinds of company. And our list of winners breaks out companies by size (small, medium, and large),so readers can make fair comparisons..

Compiling this data over the years can prove to be an amazingly useful tool to aid companies in maintaining a happy, healthy, balanced workforce. With that in mind, how do you see this issue evolving over the coming years?

The big next step for us to build an enhanced and robust online database that presents everything we've learned thus far. We've discussed adding news reports and fresh research year-round, and perhaps featuring job postingsfrom all the companies that have made our list so far. There's great potential to create a really valuable resource for readers and companies.

What are the most notable benefits to companies that participate in the issue?

For the companies that make our list, there's great PR. Numerous newspapers and blogs always report on the story, and we've had segments on Good Morning America and Outside Television. Also, all companies that participate, whether they make the list or not, can purchase employee feedback reports from the Best Companies Group. These include detailed comments from employees about the strengths and weaknesses of their workplace.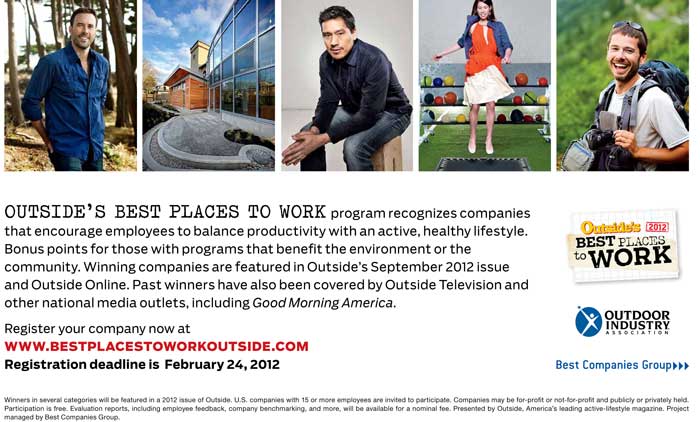 ---