BACK TO NEWS
EMP: Andrew Brewer Joins Arnette National Pro Team
Andrew Brewer Joins Arnette National Pro Team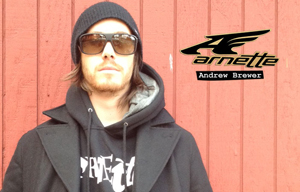 Arnette is excited to announce Andrew Brewer is the latest addition to its National Pro Team for the USA.
"I'm super stoked on Arnette! The team is killer with tons of friends on it! I couldn't be happier with all the shades and goggles, they're
rippin. Nothin' like a flat black frame and gold lenses!" commented Brewer.
Brewer is just the latest to join Arnette's snow program, which also includes Kevin Jones, Ethan Deiss, Devun Walsh, Zac Marben, Dustin Craven, Sage Kotsenburg and more.

Besides Arnette, Brewer is also backing Technine, Neff headwear, Eternalsnow.com, DVS, Matix, Skullcandy, Northwave and Boreal.


Arnette Welcomes Andrew Brewer to The Team from Arnette on Vimeo.
Stay in touch with what's happening at Arnette online at
www.arnette.com
,
www.facebook.com/arnette
and
www.twitter.com/arnette
.
---