BACK TO NEWS
EVENT: Stop Number One of The Main Event Hits Sugarbush, VT
The Main Event Kicks Off This Saturday
Stop Number One of The Main Event Hits Sugarbush, VT February 4th, 2012

The Main Event is now in it's eighth year going hard in 2012 with all new course layout, format, judging and prizes. Stop number one will take place at Sugarbush Resort in Warren, VT on Saturday, February 4th, 2012.
Deep in the Green Mountains, Sugarbush Resort has been a staple for the snowboard scene with steep and progressive terrain. The Main Event is proud to partner up with this renowned New England resort to be our first stop in 2012. The course layout is once again being built by Josh Lempert of Snow Grind featuring two back to back hips and then a rail garden, judging will be based on use of all elements on course.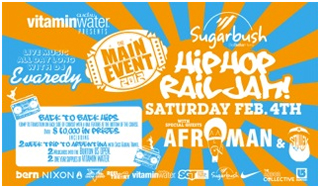 Registration will open at 8am sharp and run until 9:30am with access to the course for practice starting at 9am to 10:30am. There will be a 30 minute break in between practice and Round One "Tap Out Round" for a riders meeting and course maintenance by Snow Grind.
The "Tap Out Round" will run for one full hour from 11am to Noon with the riders determining who moves onto the finals with the shoulder tap rule. The 10 remaining men, 5 female and 5 grom riders after the one hour will move onto the finals, aka "Knock-Out Round".
"Knock-Out Round" will showcase all 20 finalists for an entire hour of jamming on the course to produce the overall man, woman and grom champions. Our judges panel will determine the winners with a "Main Event" scoring theme on the overall use of all elements on course. Many top prizes will be awarded to the riders, below is a breakdown:
Title Belt, SGT Argentina Trip & US OPEN Wildcards - Overall Winner (M & F)
NIXON Watches - Most Progressive Trick (M & F)
Year Supply of Vitamin Water - Highest Air (M & F)
Arbor Boreal Trip - Best Rail Section by an Unsponsored Rider
Nike Quickstrike Boot - Overall Grom Winner
New for this year The Main Event is proud to announce an official after-party, and to kick off our first ever after-party will be Stalley and Afro-Man at the Local Folk Smokehouse in Warren, VT. Show will start at 9pm and run until the doors close, so bring your dancing shoes and hip hop vibes to Vermont to get down with The Main Event.
Registration is now live on The Main Event website – so get on it as the contest will be limited to 100 riders total. Additionally, stay updated on all things The Main Event by visiting www.maineventseries.com and following @maineventseries on twitter.

---