Back to News
B$Z: Five Ten Elite Athlete Andy Lewis and Madonna Rock the Super Bowl
February 8, 2012
Andy Lewis Rocks Super Bowl XLVI with Five Ten Line Kings
Five Ten Elite Athlete Andy Lewis wearing his Five Ten Andy Lewis Line Kings at the Super Bowl Half Time Show with Madonna
Five Ten Elite Athlete, Andy Lewis, won the Super Bowl. How might you ask? By wearing his new Five Ten Line King signature shoes and tricklining into history during the half-time show with Madonna. Andy Lewis, four-time world slack line champion, father of modern-day trickline, world record holder for first and second longest free solo walks (180 feet and 132 feet), climber, BASE jumper and wingsuit flyer, was chosen by Madonna to dance on the slackline during her Roman-themed Super Bowl performance.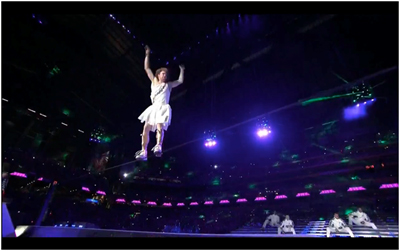 "I got really nervous when I finally got to see the crowd," says Andy, aka King of the Slacklife. "Hearing the roar is amazing and intense. There was a full-on light show and seemingly thousands of flashing cameras. And everyone I knew was watching. Just as Half Time was starting I got the butterflies. I was still smiling, but I knew that if I fell, I'd ruin my part of the show. When I threw my backflip and landed, and the entire stadium yelled...I felt energy like never before! I was so happy. Having this opportunity was so great and working with Madonna was wonderful."

To help Andy nail his tricks and incredible backflip dismount, Five Ten designed a special pair of Five Ten Line King shoes with super-sticky Stealth Rubber Soles. In order to coordinate the shoes with Madonna's Roman theme and Andy's white toga, the Andy Lewis Line King shoes were studded with gold sequins, but, as Andy said, "there was no way I was going to be able to do the tricklining without my Signature Five Ten Line Kings. They have Stealth Phantom rubber soles—and give me the traction on the line that I need everyday, not just at the Super Bowl." The Five Ten Andy Lewis Line Kings will be available for Spring 2012 (sequins not included). Here's a short interview with Andy about training for the show. Stay tuned to fiveten.com for HD footage and a show wrap up from Andy (he's still recovering from the 4 a.m. party with LMFAO).

Training for Super Bowl XLVI with Andy Lewis; a Five Ten exclusive interview with the King of the Slacklife.
What do Madonna, The Super Bowl and Slacklining have in common? Five Ten's Andy Lewis has a lot of credits to his name: four-time world slack line champion; father of modern-day trickline; world record holder for first and second longest free solo walks (180 feet and 132 feet). How does he top those feats? By helping Madonna with her half-time performance at the Super Bowl. Here's what Andy had to say about training.
How did you get involved with the whole Super Bowl thing?
I was hanging out in Moab and got a phone call from Cirque du Soleil, and they asked if I wanted to be involved in a circus act for two months. I said, "No, I don't want to be involved in a circus at all!" Then I got a call from my old boss (who had fired me for Gibbon USA) and he said, "You have to do this show!" I said, "I don't have to do anything, I'm in control." But then he said, "This is for the Super Bowl," and my ears perked up.
How did they hear about you?
They saw my videos online, and had talent scouts at some of the contests I've attended. They were not looking for a slackliner, per se, but for a personality. They needed someone who didn't care about a billion people watching him, but someone who could live on stage for the moment. That is what I've been training for over the past seven years. It is very nice that they respect that ability.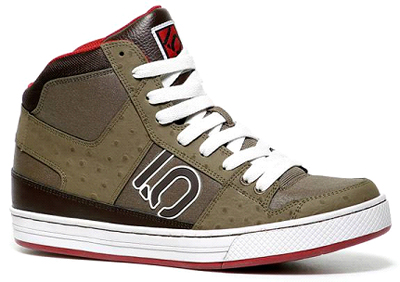 Do you get many of these phone calls?
I get a lot of these phone calls, sometimes it is for Ellen DeGeneres. I declined as they don't pay their guests—they expect people to do it for the publicity. I don't need any more publicity. I'm not out to be famous, I'm out to be happy.
How long did it take you long to say yes?
It didn't take me long to decide to do the show. Four or five days after I decided I was in New York.
Describe your first meeting with Madonna.
It was very built up. You kind of see the attitudes of people around you change when she walks into the building. Everyone becomes a different person….
When she came into the room to meet me, she said, "Andy, thank you for being here."
Describe the first meeting.
She said, "So you're the slackliner. It's nice to have you here Andy." And then she gave me a hug. For somebody who is more popular than Jesus in some countries, she's really down to earth. She has a great personality--I found her really easy to hang around with.
So how does Madonna look?
"She doesn't look her age, I can tell you that much. She is 53 or something, but she looks very, very good….she is really in shape. She takes a lot of effort with fitness and appearance…so that age is really not a part of her life. She looks like 35 going on 54. But the way she moves and dances, everything, is younger than one might imagine for a women in her 50s…it is impressive. She still has what she had when she first started. She is still a Diva.
Have you heard her sing?
She has a great voice. I played guitar with her and she sang along while I was playing. I learned her new single on an acoustic guitar and she sang along with her guitar….now I can't get the tune out of my head…..give me all your love…L U V Madonna, Give me all your love…..
Do you dance or sing at all in the show?
I dance on the slackline and I party….I get paid to have a smile and energy on stage. The way Madonna does her shows is like telling a story, so we are learning our characters, the scenes, and the plot that is being told throughout the performance…. I'm Caesar in the story, King of the Empire, the center of attention. In the segment where I perform, Madonna comes and kisses me on the cheek. Her kiss empowers me and allows me to do crazy stuff on the slack line.
I hear your costume is interesting.
I am dressed like Caesar, in a toga….
You know the perennial question about togas and kilts…are you wearing anything on under it….
There is definitely something under it….the Super Bowl is very strict about wardrobe malfunctions, they are not even showing guys nipples anymore.
You've been training with Madonna and her team for the past month in New York City. Have you been exposed to any wild partying?
I have been exposed to some wild partying. I got VIP passes to LMFAO (laughing my f'ing ass off) a party rock band, and got to dance on stage and be part of the concert…there were hundreds of people there…..
I also went to premier of Madonna's new movie that she directed, W.E., and got invited to the after party. We were on the top floor of a hotel with glass windows that overlooked the city in all directions….and it was cool because we got to party with Madonna….Nicki Minaj, M.I.A…..
How do Celeb parties differ from parties in your home town of Moab?
What parties in Moab? When we get to together in Moab we don't call it a party, it is getting together with campfire and friends, not like clubbing. In NYC it's all about getting dressed up and looking beautiful. It is a world I have no idea about and don't give a sh** about either. It is funny to go to the club, with everybody super dressed up. I show up in jeans, a Five Ten shirt and an Outdoor Research jacket. It's funny because I look so out of place. People think I'm famous because they don't understand how I got into the party…. I stand out like a yellow dot on a yellow background.
So what's life after the Super Bowl?
If I do well, that is great, and if I screw up, I just hope slacklining doesn't suffer.

Slacklining is about keeping going, but show business is about the exact opposite…I have to be one hundred percent perfect. One reason they chose me is that I focus on what I'm doing—I get into the Slacklife, so to speak. But I don't want to disappoint Madonna, the half-time team, or all the slackliners who are watching.

---