Back to News
B$Z: Five Ten Elite Athlete, Dean Potter, is The Man Who Can Fly
February 13, 2012
Five Ten Elite Athlete, Dean Potter, is The Man Who Can Fly
Dean Potter, Five Ten™ Elite Athlete, is The Man Who Can Fly. The eponymous TV special will air February 12th, 8 p.m., on the National Geographic Channel. The show focuses on Dean's action-packed life for the past 12 months; pioneering the first free solo on Yosemite's El Capitan (Easy Rider), walking some of the most beautiful free solo highlines in the world, knocking off a first ascent (and first wing suit descent) of Mt. Bute in British Columbia, Canada, and setting a new world record for wingsuit BASE-jumping off the Eiger—soaring 3 minutes, 20 seconds for more than 5.5 miles over 9,200 vertical feet. All the while, wearing Five Ten shoes with high-friction Stealth™ Rubber. Potter, a Five Ten athlete for more than a decade, whose free-climbing, mountaineering, high line walking, and wingsuit flying accomplishments have propelled him to the forefront of adventure sports, dedicated a year to the film. Says Potter, "It's the biggest production I've ever worked on--it was a 12 month journey." The show was filmed by a National Geographic film team, who traveled with Dean in North America and Europe.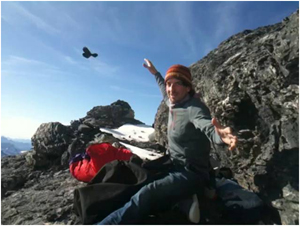 Much of the show is about Potter's pioneering work in the development of wingsuit design. "The theme is really innovation in human flying," explains Potter. "I learned about flight efficiency from Dr. Bret Tobalske, at University of Montana in Missoula who studies bird flight. He taught me how to shape my wingsuit and, how to move more bird-like." Potter also worked with Tony Uragallo, a 61-year-old icon "Yoda" of wingsuit flying and one of the world's top wingsuit designers as well as Pete Swan, long time friend and master rigger. Potter's work with Uragallo, Tobalske and Swan lead him to adventures in Yosemite, Switzerland and British Columbia, where he climbed with the ace team of Damien Kelly, Wayne Crill, and Jimmy Martinello. Leading up to the Sunday premier of The Man Who Can Fly is a Nightline Special when he teaches the host, Neal Karlinsky how to climb and slackline. On the current World Record wingsuit flight off of the Eiger, Potter reached speeds of 120 miles per hour, dropping at a rate of about 30 mph. "Five Ten has become more like my family than a sponsor. While doing my arts, I know they are with me every step of the way," says Potter.
The following is an exclusive interview from The Brand of the Brave™ with Dean Potter for media use.
What does it feel like to fly?
For me, it feels like there is something linked into our DNA where we were once connected to flying creature in the past. It's very natural to fly. When I enter the air, my intuition takes over and I don't have to think, I just look where I want to go and do what I want to do, it is subconscious.
What type of training did you need?
I think I've been training all my life. Being brought up with an Army colonel (my father) and yoga teacher (my mom) built the foundation of what I do today. The regimentation my dad taught me and the movement while breathing my mom taught me is very much the fundamentals of my training.
How important is your equipment?
I always wear Five Ten shoes—for climbing, take off and landing. I can honestly say that I wouldn't be where I am today without Stealth rubber. My favorite climbing shoe has been the Moccasym, but I recently helped Five Ten design the Anasazi Hi-Top, which works really, really well for very difficult multi-pitch climbs. And while people don't automatically think of footwear for BASE-jumping and wingsuit flying, getting to the launch (like on the Eiger) requires precision and high-friction. Not to mention traction for landing.
For the wingsuit, the fundamentals of flying are to shape human body into efficient airfoil. I have been working with the best designer in the world, Tony Uragallo, to make the best flying wingsuits in the world. This innovation has allowed me to consistently fly or BASE-jump longer than anyone has in the world. It is all the shape of the wing and technological advancements people have made in design.

The strength I have as a climber allows me to hold the wing shape precisely and securely. I think of it as similar to the flying squirrel—they use the same muscles to climb trees as to glide through the air. Flying comes from two different angles, mimicking nature and technological advancements.
When was your first flight?
My first flight was in 2003; it arose as I'd done my best climbs in Patagonia when I free soloed Fitzroy. Coming down I was struck by rock fall and almost died, and nearly fell in crevasses. I thought, there has to be a better way to come off these mountains, and that was the original reason I thought of combining climbing and BASE-jumping. It took me almost 24 hours to get off that mountain, and if I would have BASE-jumped, it would have taken me 3 minutes….
So do you really think you can fly and land without a chute or canopy?
For my whole life I have had this dream about flying and landing my body. Now I realize that after years of practice, mankind is on the brink of one of the biggest breakthroughs in human history. Where man will fly and land. We have the skills and knowledge to pull it off. It is a combination of skills; for me, the most important factor is that I have consistently broken through barriers of what is possible, from climbing and slacklining to flying--so I have the knowledge to take these next steps. My knowledge is from wind, weather, and being an alpinist for all of my life.
Is flying fun?
Flying is real playful, although it brings out a very serious side as it is quite dangerous. The experience of moving your body in the air is very much like a child at play--everybody I see in the air is always smiling and playing.
Is flying something that anyone with training can have as a goal?
Sky diving seems like the original extreme sport. It goes back to 1960s and is very accessible to the general public. You can get a tandem skydive, and within a few days, get an advanced free fall certification. And it requires very little physicality, so any body type can fly—everyone can form a wing shape. It just takes persistence. Of course, with flying, consistent training is important for safety.
What is the next step from skydiving?
Sky diving in itself exposes you to new world of flight that is so compelling, most people won't want more. But for myself and other mountain-centric people, BASE-jumping is the obvious next step.
Now in many sports from skiing to snowboarding, from climbing to slacklining, BASE-jumping is being combined with wingsuiting and paragliding to create new hybrid forms of these arts….

Is what you do dangerous?
BASE jumping, solo climbing and walking the highline can all be dangerous, I have been lucky enough to have very experienced teachers and I recommend to others getting into the disciplines to choose your teachers and mentors wisely. My criterion is to choose an older teacher who has survived the learning process unscathed, and someone that talks about conservative decision-making. One of the most valuable lessons is that slow, continuous growth is much better than quick growth that ends in an accident. If you are out of the game for 6 months to a year, you lose huge ground. It seems so obvious, but younger people might not think it is not a big deal to break a leg. Conservative decision making keeps you healthy and on a gradual upslope.
How do you describe what you do?
I do practice three distinct arts, I feel like they are all connected and what I learn from each one is allowing me to push it and other ones. The unique thing about my life right now is that I am pursuing two complete opposite things, the art of not falling, by free soloing the world's biggest rock faces , and flying and landing, and I'm on the brink of being able to do both. It boggles my mind that somehow it is happening.

I don't like the name BASE-jumping. BASE-jumping is acronym for Building, Antenna, Span and Earth. What I prefer to call it is human body flight. Or body flying, because that is what we are doing. The conception of BASE-jumping is that we fall, but reality we are forming body into a birds-wing or airfoil and flying. And once you know what you are doing, you go more forward than you do downward, even with the naked body.
What's next?
I think we are getting to the point where humans can ride thermals. Up until now it happened mostly by mistake, but it is one of my next areas of exploration. For my world record flights, I definitely was using thermals to get more glide. But there's a lot that I need to learn. From the Eiger, the flight was basically over sunny ground, with no shadows, but that was just the beginning.
Are you crazy?
That is something that most every artist and innovator struggles with, what we are doing by nature is going beyond the norm. If you call beyond the norm crazy, perhaps I'm crazy. But to make breakthroughs, you have to ride that line… and always push the line of what is reality.

---