BACK TO NEWS
EVENT: Mammoth Offering Eight Parks for Presidents Week
Mammoth Offering Eight Parks for Presidents Week
All of the world-class terrain parks at Mammoth are open and stocked full of features. The eight parks can be found all over the mountain, and are packed with innovative snow features, some brand new rails, and as always, a focus on progression.
Even if you've never hit a box or a jump in your life, Mammoth can help you get started. Enrolling in a lesson this weekend provides access to the Freestyle Sampler. This beginner area is a great place to earn your first slide on one of the mini-boxes, or your first air on a mini-jump.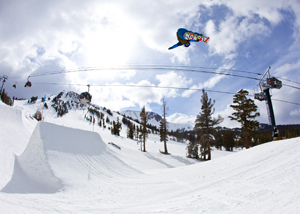 From here, aspiring snowboarders can head out into the public beginner parks, Disco and Wonderland, or straight into the intermediate options of Forest Trail and the famous Art Park. Each park in the Mammoth Unbound collection is created to promote your own personal progression. The smallest features are placed at the top, and they get slightly bigger as you make your way down. So, before you know it, you're at the bottom and already better at shredding!
Once you've mastered these areas, continue on toward South Park or Jibs Galore to test your skills. Then, when you're ready, go visit Main Park and see if you can keep up with the pros. The snow may not be falling everywhere this winter, but Mammoth is covered and our terrain parks haven't skipped a beat. Plus, we received fresh snowfall last night, and it's forecasted to keep coming down through Wednesday, so the trees are looking good too!
"All of the parks are in perfect condition as usual and there is something to shred for every skill level...with the most terrain in California right now and other resorts looking like boiler plates there is no reason why you shouldn't be living the life in the high country...just another day in the paradise of the Eastern Sierra!" according to Wave Rave snowboard shop down in town.
Eight parks with a feature count already at 80 and growing makes Presidents Week the perfect time to come get your winter on at Mammoth Mountain. Be sure to sign up for MyMammoth to get the lowest daily rate on lift tickets (lower than last year!) as well as huge discounts only available to members.
The Mammoth Mountain Unbound Terrain Parks lead the industry in innovation and quality with eight parks, three half pipes, 90+ jibs and 100+ jumps on over 100 acres of California's favorite mountain resort. Using state-of-the-art equipment to provide a progressive environment for all levels, from beginners to a team of our own professional athletes, the Unbound Terrain Parks are on the forefront of progression, earning consistent ratings among the top parks of the world. For more information on the Unbound and Mammoth Mountain Ski Area, visit www.MammothUnbound.com or call 800.MAMMOTH.

---