BACK TO NEWS
EVENT: Arnette Paddles Back Into The Cash Pot Surf Series With New Stops
Arnette Paddles Back Into The Cash Pot Surf Series With New Stops, More Cash And Support From Transworld SURF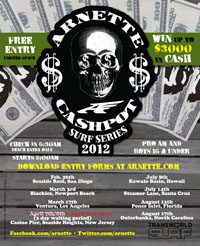 Arnette is pumped to be bringing back their Cash Pot Surf Series in 2012. Now in its second year, Arnette's regional Cash Pot Surf Series will feature eight, free-to-enter events, taking place throughout California, New Jersey, Hawaii, Florida and North Carolina. To sweeten the deal, Arnette has added a new stop for the series in Ventura, CA.
Each event in the Cash Spot Surf Series has a limited amount of space available for competitors, given out on a first come, first serve basis. Cash Spot Surf Series events are beach entry only, so interested participants should plan on being at their local stop by 6:30 am the day of the event!
The Cash Pot Surf Series will feature two divisions at each stop – Pro-Am and 16 & Under – with $3,000 in cash up-for-grabs at each event. Unlike many surf contests where just the top finishers get paid, the Cash Post Surf Series judges dole out money to the winners of each heat, as well as other contestants who simply stoke the crowd out with a sick trick or big air.
"The Cash Pot Surf Series went off great last year and I'm stoked we're able to do it again. We've added a new stop in Ventura and with the help of our new media partner, Transworld SURF, we're able to bump the prize money up to $3,000 per event," commented Brent Bearden, Arnette Team & Events Manager. "You don't have to make it to the finals to go home with cash. We've got money and prizes set aside for heat winners and the guys that simply just rip it up out there. I can't wait to see this go off again."
At each contest, ASP judging criteria and interference rules will be in full effect. The first place finisher in the 16 & Under division will receive $250, the winner of the Pro-Am division brings home $500 and additional prize will be going to heat winners and surfers who otherwise impress the judges.
2012 Arnette Cash Post Surf Series dates and locations include:
* 2/26 – Seaside Reef, San Diego, CA
* 3/03 – Blackies, Newport Beach, CA
* 3/17 – Ventura, Los Angeles, CA
* 4/21-22 (two day waiting period) – Casino Pier, Seaside Heights, NJ
* 7/08 – Kewalo Basin, Honolulu, HI
* 7/14 – Steamer Lane, Santa Cruz, CA
* 8/13 – Ponce Inlet, FL
* 8/17 –Outerbanks, NC
Follow the events and stay in touch with the latest from Arnette online at www.arnette.com, http://www.facebook.com/arnette and http://www.twitter.com/arnette.
---