Back to News
B$Z: Arnette Adds Nick Wey To Motocross Team
February 23, 2012
Arnette Adds Nick Wey To Motocross Team
Arnette is excited to announce Supercross veteran and Michigan native, Nick Wey, is now a part of the Arnette Motocross Team. Wey, who turned pro 15 years ago, has the drive and hustle that Arnette is looking for as they open up their new MX racing program.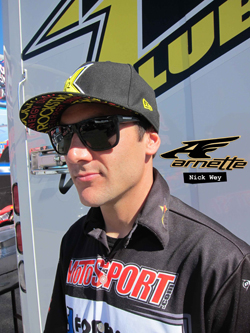 "I couldn't be more excited to team up with Arnette, they've got the image and product I'm looking for in a sponsor. The Series 3MX goggle performs flawlessly and their sunglasses can't be beat," commented Nick.
Arnette has been making moves in MX and FMX since the launch of their Series 3MX goggle in September of 2011. Other dirt notables wearing the Series 3MX goggle include Robbie Maddison and Adam Jones, as well as former professional racer and current Arnette Motocross Team Ambassador, Jeff Northrop.
"Nick's the kind of rider we want backing Arnette on the track. He works hard at racing, but he's having fun out there too. I'm psyched he's on our program," commented Jeff.
Besides Arnette, Wey is racing for Motosport.com, TiLUBE, Foremost Insurance, MSRMX, Rockstar Energy Drink, Skullcandy, Arnette, TCX, MAFIA Moto Crew.
Stay up to date with Nick's race results online at http://www.nickwey.com and keep track of the latest from Arnette online at www.arnette.com, http://www.facebook.com/arnette and http://www.twitter.com/arnette.

---