Back to News
The Inertia - with Zach Weisberg, Founder
February 23, 2012
The Inertia With Zach Weisberg, Founder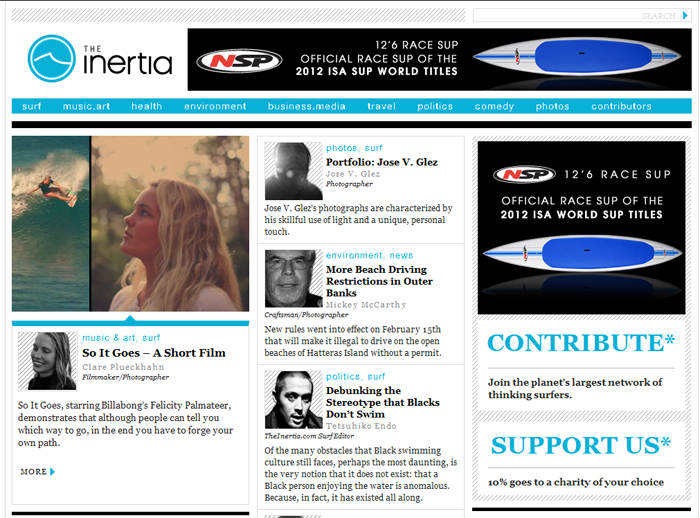 Founded by Zach Weisberg, who found inspiration in Arianna Huffington, set out to create a platform that "democratizes the narrative of surfing" through publishing a wide variety of thoughts, stories, photos, and more from a contributor pool of more than 250 people and counting. The surf industry's icons and unknowns all have a place and all put trust in Weisberg as the steward. What the future holds for The Inertia is unknown, but there is a vision in place and significant accomplishments have happened since its launch in fall, 2010. Zach Weisberg made time to talk about it. (Click here to visit TheInertia.com)
When did you see an opportunity for The Inertia in surf media landscape?
When I decided to leave SURFER Magazine after running their website for three years in April of 2010, I knew there was an opportunity to make an impact in the world of digital media within action sports. It wasn't until I visited Columbia University to tour their journalism school that I saw Arianna Huffington speak and decided that her vision might work perfectly in our little niche. Knowing that I planned to attend graduate school a year later (I'm now at USC Marshall School of Business), I decided to give it a shot in the fall of 2010. It's been quite a ride.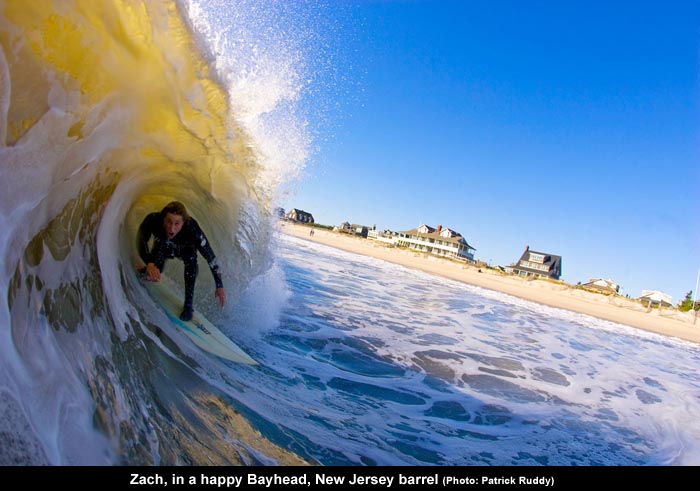 What is the space now filled by The Inertia that was previously void?
The Inertia completely democratizes the narrative of surfing. Now, instead of three or four editors sitting in a room – usually in Orange County – deciding what's important in surf culture, anyone with a passionate perspective has a voice. That's the beauty of it. There is no obligatory content on the site. Here, people put their name and their face next to something they believe in, which seemed all too rare in the world of surfing. Nothing's off limits here so long as it's couched respectfully. I love it.
You assembled a team of contributors totaling nearly two hundred fifty people, with some of them being the most notable names in surf. How did you achieve that?
I was fortunate enough to establish some great relationships while working at SURFER, and after doing a bit of recruiting – mostly via email – the individuals I approached really identified with the concept and were more than happy to contribute. It's great to have them, because it creates an amazing collective of individuals and perspectives – from Kelly Slater and Shaun Tomson to young surfers in college. We've got the whole spectrum; it's not perfect, but it's a much more accurate composite of perspectives in surfing.
Kelly Slater published an intimate column on TheInertia.com about what knowing Andy Irons meant to him and how it has affected his life. Slater could have distributed that through any media outlet. Why TheInertia.com?
I don't know. Maybe because no one else thought to ask him about it?
I can't know exactly why Kelly chose to share his piece on The Inertia, but if you take a look at all the outlets available in surfing at the moment, The Inertia certainly makes the most sense. We've gone to great lengths to allow people to speak as honestly as they care to about things that matter most to them, and that piece certainly fits the bill. There's no pretense on The Inertia, and that's exactly what a piece like that requires: passion and honesty. I hope The Inertia will host more pieces of that caliber in the future.

The average Internet user has a very short attention span, but TheInertia.com seeks to dig deep into peoples' conscious. Is it working?
I'm not sure that's entirely true. People are consuming media in far greater doses online than they used to – whether through television shows, Hulu, or films, so I'd reconsider that assumption, but I know what you're saying. The Twitter effect is ubiquitous, but I think that leaves something to be desired by Internet users. People know they can come to The Inertia and find something substantive, beyond a barrel shot or 140 characters about an errand, and, for us, that has been working.
To date, what are the most popular stories on TheInertia.com?

Here are the Top Five Stories since we launched:
TheInertia.com is open to contributors, meaning anyone can be considered to be a Contributor. What are the evaluation criteria?
Like you said, anyone can contribute so long as they have talent and can relate to our community in a meaningful way. Writers need to be able to communicate clearly, and photographers and artists need to bring something interesting and/or unique to the table.
Will there be additional segments of the industry covered on TheInertia.com? If so, which?
That's in the works, and it will depend more on the people we get involved more than anything else.
How do you see the site growing, and company developing, in the coming years? Thinking about it in a perfect-world scenario.
Ideally, we're able to replicate this community template across all action and adventure sports – ideally, making The Inertia a hub for thoughtful user-generated content in the action sports space. Eventually, this might evolve into a fully integrated brand with product and social impact branches, but for now, we're just taking it one day at a time!

---