Back to News
B$Z: Monster Energy Mammoth Motocross and Racer X Announce Partnership
February 27, 2012
Monster Energy Mammoth Motocross and Racer X Announce Partnership

Monster Energy Mammoth Motocross and Racer X Illustrated are proud to announce a media partnership for the 2012 Monster Energy Road to Mammoth and Monster Energy Championship Final for 2012.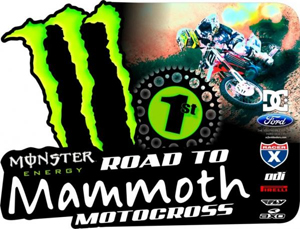 Mammoth Motocross partnered with Monster Energy in 2010 to create the Road to Mammoth Qualifiers and to support the annual final events in June. Monster Energy's support has allowed it to become a legitimate national-style week of racing, full of competition, parties, and racing camaraderie.

For 2012, the industry-leading publication Racer X Illustrated has been added as an official event partner.

"Racer X was the missing piece of the puzzle, and now we feel like everything is in place for 2012," Event Director Mike Colbert says. "We are very excited to see what they are willing to bring to the table, and welcome them with open arms."

"We're excited to be a part of such a historic and fun event," said Racer X founder and Editorial Director Davey Coombs. "We've covered races on Mammoth Mountain many times in the past, and we're looking forward to taking that coverage up a notch this summer. Our crew will be there to make sure the people who aren't lucky enough to attend in person get to see what a cool event Mammoth Mountain really is."

Mammoth Mountain has been home to incredible motocross racing for more than forty years. In 1968, Don Rake and some friends decided to put on a motocross event in Mammoth Lakes, California, so they built a world-class track 8,000 feet up in the Sierra Nevada Mountains. Dave McCoy came along and offered the backing of his Mammoth Mountain Ski Area, and the rest is history.

Every summer since, racers have flocked to Mammoth Mountain for this event, the oldest continuously running motocross in America. And while the track has changed a little over the years, the fun hasn't. Many of the world's top racers have honed their skills and done battle there, including Jeremy McGrath, Ricky Carmichael, Rick Johnson, Gary Jones, Jeff Ward, Bob Hannah, James Stewart, Mike Bell, Ryan Villopoto and many, many more. Mammoth Mountain has also become one of the nation's most prestigious amateur motocross events.

Stay tuned for more updates soon.

Monster Energy Road to Mammoth Schedule

*(Round 1) Feb. 26, Competitive Edge, Hesperia, CA

*(Round 2) March 11, Porterville MX, Porterville, CA

*(Round 3) March 18, Oatfield MX, Turlock, CA

*(Round 4) April 1, Lake Elsinore MX, Lake Elsinore, CA

*(Round 5) April 15, OMC, Boise, ID

*(Round 6) April 29, "Last Chance Qualifier," Pala Raceway, Temecula, CA

Monster Energy Championship Final
*June 22 Vet/Sr./Master Practice

*June 23-24 Vet Championship Weekend

*June 25 Mini Practice

*June 26-27 Mini Championships

*June 28 Open Practice

*June 29 Open/Women/Schoolboy Championships

*June 30 250 Championship Including the FMF 2-stroke Challenge

*July 1st 450 Championship

Visit www.mammothmotocross.com or call the Motocross office at 760-934-0605 for more information.

---