BACK TO NEWS
EMP: The Action Sports Employment Market, 2012
The Action Sports Employment Market, 2012
By Mike Lewis & Chad Mihalick (Written by Mike Lewis)
(Editor's note - click image below to download a printable PDF.)
The last few years have been a wild ride. News of layoffs have peppered our headlines, while at the same time, top-end executives have played musical chairs, bouncing from company to company chasing larger market caps, while talented middle-level execs and recent graduates languished in the unemployment lines.
The survey was conducted online and by phone, with a broad range of companies—both large and small—as well as individuals, from senior level execs to newly minted graduates, weighing in.
Analyzing the data turned up some interesting trends—perhaps the most noticeable being that most companies avow to not experiencing significant salary cuts and layoffs during the last couple of years. We sliced and diced this by company size and market cap, and it didn't make any difference, the averages wound up just that. Whether it's restructuring, short-term memory loss, or the fact that everyone we interviewed is still in business, most companies say they came through the Great Recession relatively unscathed.
While finding staff and keeping them has become easier for companies in a soft economy, that's not to say that companies are taking them for granted. Employee satisfaction is still incredibly important, and as companies start ramping up hiring, the industry should continue to receive great grades from its most important customers—its employees.
EMPLOYER REPORT CARD
THE NEW NORMAL
The news and anecdotes provide a cloudy perspective of what's really going on, so TransWorld Business and Malakye.com embarked on a mission to check the temperature of action sport's employment micro-climate. Over the course of two weeks, 123 different companies of all sizes and over 700 individuals were polled to learn how companies and staff were affected by the recession, who's hiring, who's firing, and the skills of the people in the market.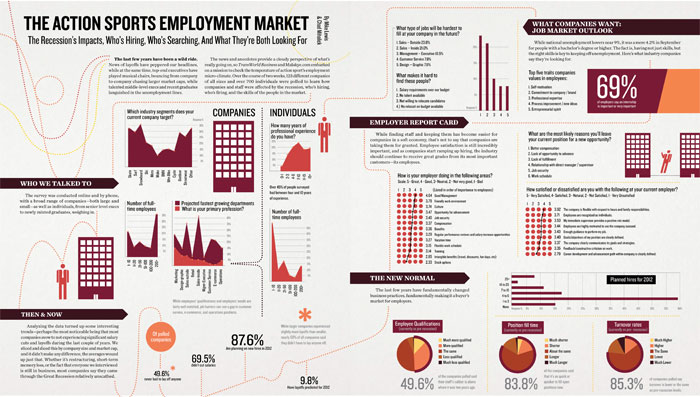 ---