BACK TO NEWS
EVENT: Seattle Based DieCutStickers Teams Up with Northwest Harvest on Food Drive
Seattle Based DieCutStickers Teams Up with Northwest Harvest on Food Drive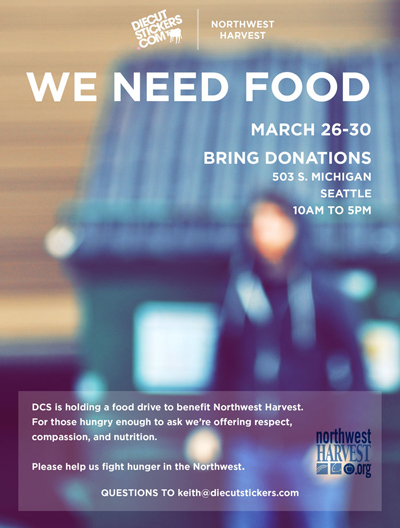 DCS is teaming up with Northwest Harvest all this week to collect food for those in need. All items collected will be sent out by NW Harvest to help hungry families in our region. Please donate whatever you can and stop by the DCS Office in South Seattle with your contribution!
As an added courtesy we're offering to pick up group donations from any local businesses or offices that would like to help support our efforts. We'll be giving shout-outs and kudos to anyone who donates via our social media channels to share the love. It's time to give back and keep the good vibes and karma flowing!
Need ideas of what to donate? Read below!
General food items:
Oatmeal
Whole grain pastas
Brown rice
Tomato products
Canned vegetables
Canned fruit, especially with low sugar (but not artificial sweeteners)
Canned fish or meat
Shelf-stable milk
Beef stew, chili and similar meals with low sugar and saturated fats

Infant and baby foods:
Baby formula
Canned milk
Infant cereal
Jars of baby food
Powdered or canned milk
We also accept baby diapers

---