Back to News
CANADIAN CARTEL, With Founder Aaron Muller
April 23, 2012
CANADIAN CARTEL, With Founder Aaron Muller
Canadian Cartel is a flash-sale site born out of brick and mortar retail. Before Canadian Cartel, Founder Aaron Muller owned and operated Fluid Sports – an action sports retail shop in BC, Canada that lasted seventeen years before the doors closed – and then reincarnated itself for the 21st century retail economy as an online retailer.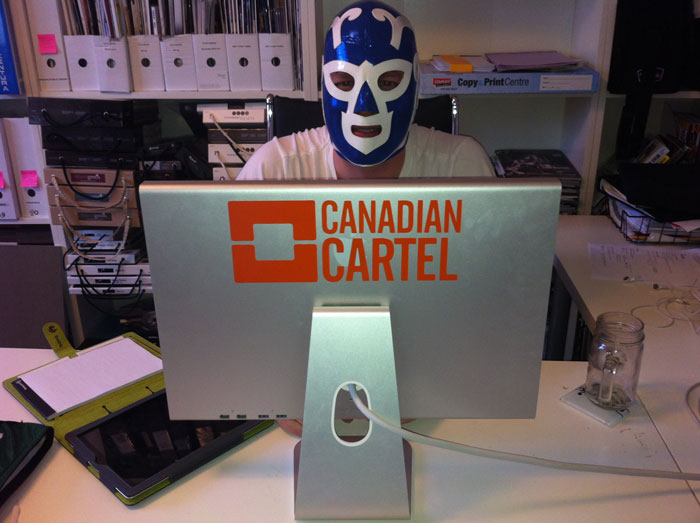 When did you first realize the days of your shop, as it was, were numbered?
After watching the continual sales decline when the market collapsed in 2008, and news of US chains setting their sights on Canada. We knew in early 2010 it was time to join forces with a larger company and go vertical or get the hell out.
What were some of the possible scenarios you saw unfolding for yourself after realizing it was time to close your shop?
It was a weird scenario, having had the shops for 17 years I had never really worked for someone. After a few industry interviews it became apparent that I couldn't, so it was time to start something up. I had one interesting offer from a computer company named after a fruit, but I turned it down…
At what point did you realize reopening as a "flash sale" web business could be a viable option?
Having shops along the boarder of the US I was constantly reminded by customers about great deals from sites in the US that I had no way of competing against. Looking further into it I found out if you wanted to buy from these US sites you either had to have a mailbox in the states or pay some hefty duties. The idea of a Canadian site that ships directly to your door in Canada seemed like a solution for Canadian customers.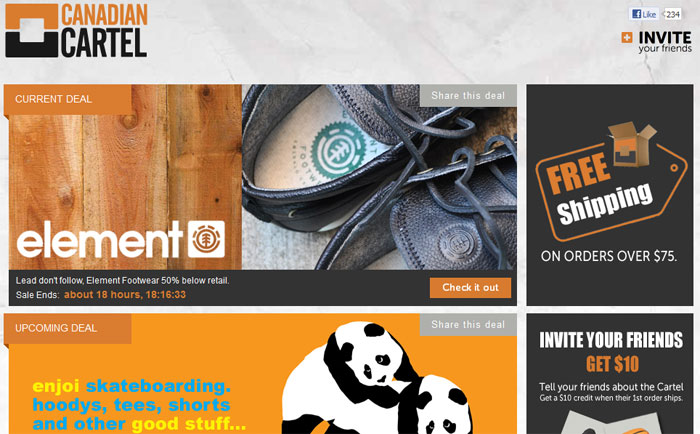 Was there then, or is there now, direct competition for you within Canada?
No currently we are the only site supplying Action Sports and outdoor adventure products exclusively to the Canadian market, but I am sure more will be popping up soon.
Are similar U.S. based businesses able to offer a similar service within Canada?
No. There are always complications when you are dealing with a company based in another country. Warranties and incorrect shipments are always harder to deal with once you have brought products over the boarder. By shipping inventory within Canada we are able to service our customer quickly and efficiently, and it's great to support local Canadians EH..
You spent well over a decade as a full-price retailer. Now you're on the other end of the retail spectrum. Knowing what you do about operating a retail business, do you think your new business model puts your "retail brethren" in jeopardy of failing?
In every business you have to be constantly evolving, it was not my plan to have to close my retail stores. I realized as a small independent I was about to be gobbled up but these larger chains, so I made the choice to close before I was taken out. I feel for these shops that are facing hard times because I went through the same exact thing. I think there will always be a place for independent retailers, but they have a tough road ahead of them. I think Canadian Cartel fills a whole in the market that was not being met.
What have been the biggest challenges along the way in establishing the Canadian Cartel?
It has been a lot harder than I ever thought; the barriers to entry are very high and expensive. Luckily I have great partners with the experience and know how to build and run e-commerce sites. The biggest challenge is growing the member base. We started with friends and family and have had tremendous growth. The best way to gain members is through great customer service and word of mouth, and I think we are continually improving all aspects of the business.
Could you have done it without all of your existing relationships within the industry?
Not a chance. The support that I received from suppliers and friends in the industry has been key to the success of the Canadian Cartel, especially in the beginning. I truly appreciate everything anyone has done to help us along. The Cartel will not forget those who have helped.
How do you see your business evolving in the coming decade? What are you most excited about?
As with all good business plans we have a lot of great thoughts and ideas moving forward BUT as with all good plans they need to be flexible. The one thing that I have realized and learned over the last 7 months are that our perception as to where we think we are headed and where we have ended up are two very different things. At this point I am still trying to wrap my head around what our first year is going to end up looking like let alone what is going to happen 2 -5- 10 years from now.
The most exciting thing is very clear though – the possibilities - they are limitless.
---