Back to News
Doug Works, Global Director at RED Strategies & Partner at Aura
May 7, 2012
Doug Works, Global Director of Apparel and Sports Practice at RED Strategies, and Partner at Aura Skateboarding Company
Doug Works, well known commercial real-estate advisor to apparel and sports related companies throughout southern California and beyond, recently joined a smaller commercial real estate firm called RED Strategies. And at the same time, or close to it, became a partner in Aura Skateboarding Company, the custom ramp building company that recently opened an amazing indoor skatepark in Vista, Calif. where he also offices for his commercial real estate solutions business.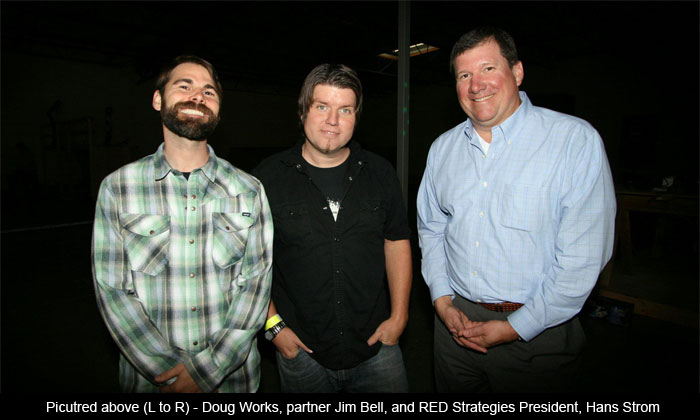 What does your change from CBRE to RED Strategies mean for your career?
I started working for CBRE in 1998 while I was still in grad school at the University of San Diego. I really enjoyed my work and the company until the end of last year when there was a management change and an overall philosophical change at CBRE. They started pushing me to do more corporate business and did not see the value in helping smaller and mid-sized apparel and sports related companies. They also were behind the times in technology and provided unbelievably limited resources considering that they are the world's largest commercial real estate firm. I am such a loyal dude that I would have probably stayed there doing a mix of corporate real estate and apparel and sports real estate advising for even longer had I not received a tremendously favorable offer from RED Strategies, a newer more nimble and creative firm that wanted a north San Diego County office. Basically, the company change allowed me to completely shed the suit, tie and dress shoes and work on behalf of clients that I can relate to in the apparel and sports industries. The change was very freeing and significantly positive.
What are you most excited about with being a part of the RED team?
I am most excited about the support that RED has provided to Aura Skateboarding Company. They wanted a north county office and I told them that I had a place in mind but would require their support. The President of RED Strategies attended our very first friends and family open house at Aura Skateboarding Training Facility. RED provided all of the office equipment, office supplies, computers and office furniture. In addition, they pay a small portion of the overall rent and sponsor the free wi-fi that is available in our family lounge along with a pool table and comfortable seating. Since RED Strategies is just in San Diego and now Vista, I can collaborate with local market experts from any company when working on assignments outside of Southern California. When I was at CB, I was pretty much forced to use the CB person in every market. There are great people at CBRE but they are not the best choice in a lot of markets.RED is a great outfit that provides the resources that I need to make a difference for my clients plus they provide significantly better splits than my former company.
Is it fair to believe you are the only commercial real estate agent who holds office in a skatepark?
I believe that to be true.




How often do you take skate breaks during your workday?
Ask anyone that knows me well about my work ethic, and they will tell you that there is a reason that my last name is Works. Typically I skate toward the end of my day but occasionally, I will skate the spine or street course for a few minutes here or there when my productivity is dwindling.
How did this partnership opportunity with Jim Bell come about?
I have known Jim for a number of years and spoke with him a lot over the years about finding the right facility for his ramp building operation and became friends.I was initially providing commercial real estate advise to Jim. We spent about 8 months identifying and negotiating on various facilities. I created leverage and negotiated the best lease possible with a very favorable fixed purchase option. Since I needed office space for RED Strategiesin the North County and had a keen interest in Jim's plan,Ibegan to provide some business advice and suggested that I could help with vendor/sponsor relations. Jim saw the value that I could provide and we agreed to work together.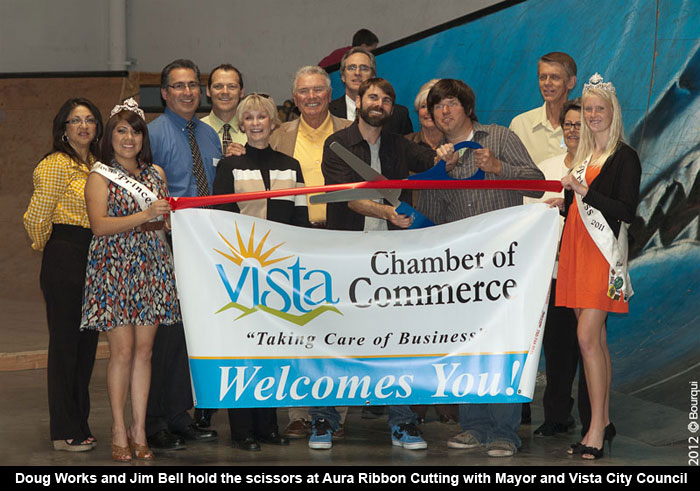 How long did it take from deciding to create the skatepark to opening its doors?
The short answer is 9 months. In Jim's recent Transworld Business Interview, he elaborates on the timing, his inspiration, what has gone into the building of the skateparkas well as the overall business model. That interview is well worth taking a few minutes to read
What does this business look like in a couple of years?
Aura Skateboarding Company will continue to operate the custom skateboard ramp building showroom and skatepark with an emphasis on providing memorable and valuable events and experiences for our customers and their families here. I expect that our facility will become a popular venue for hire for a variety of companies and charitable organizations in the next few years.If things go as planned, we could begin opening additional facilities around the United States in that same period.




In that sameTransWorld Business interview, Jim Bell described the business model as, "…based off of ramp sales, skateboard training, skateboard classroom." What will the "skateboard classroom" be?
The classroom will be an area for learning with desks and a chalk board where we will be reaching to public, private and trade schools to offer skate P.E. and classes including things like the anatomy of skateboarding and the math and science behind ramp building as well as other programs that we are just beginning to conceptualize.
Are there any upcoming events planned?
I am glad you asked. We are having a few bands play here while people are skating on the evening of March 11th, the School of Rock will be here with their house band for a fundraising event on May 25th, We are hosting another street and possibly a miniramp contest here on June 2nd. We will also be hosting a BMX contest at the beginning of June. And of course, we will host a special event on Go Skateboarding Day. For more information about Aura Skateboarding Company, our indoor skatepark and upcoming events, visit our website: http://www.auraskateboarding.com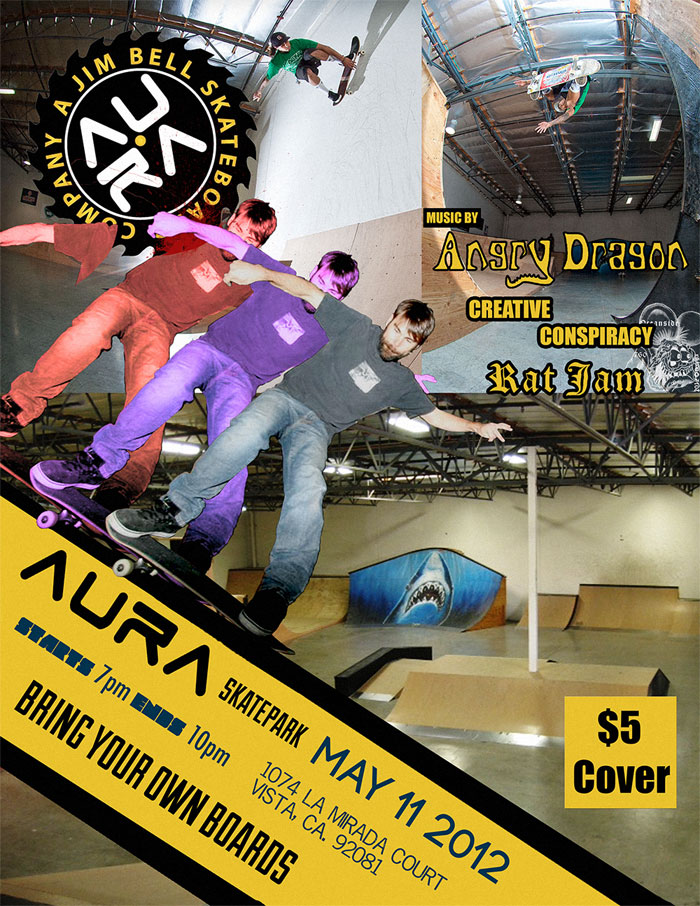 ---