BACK TO NEWS
B$Z: Professional Surfers Join All Star Cast in Support of the Don't Do It Foundation
Professional Surfers John Florence, Joel Tudor, Liam Mcnamara Join All Star Cast in Support of the Don't Do It Foundation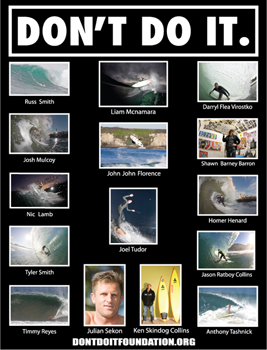 Due to the Don't Do It Foundation's (DDIF) recent inability to get their ad run in the surf magazines, they are now rallying for public support to help get their message out.
DDI, a coalition of individuals dedicated to fueling passion-based action sports brands, released a new, powerful, advertising campaign featuring prominent surfers committed to fighting corporate, big box thinking in action sports. With the large sporting goods companies being able to successfully leverage their financial power with the magazines in the surf sector by threatening to pull their advertising if they ran this ad, it has thus forced the Foundation to spread its message through other avenues.
"These surfers are heroes for standing up for what they believe and their voice deserves to be heard," says Leticia Ruano of DDIF. By supporting the DDI campaign, these surfers are stating a clear and strong message about supporting the brands that truly support the action sports culture. "The DDI campaign does not want to tell people who not to support, but to get people thinking about who to support," said Birdo of the DDI Foundation. He adds, "We must work together as consumers in order to keep our industry among passionate hands, and on a proper course."
By asking Action Sports supporters to consider and be aware of who their efforts and dollars support, DDIF aims to empower those companies and shops born out of passion, rather than those that wish to take someone else's passion down their own path. "The goal is simple: to salvage and re-cultivate the diversity our industry once had," Birdo added.
The DDI Foundation is reaching out for public support and are asking supporters to help spread awareness in any way they can. They ask that you please share this ad and encourage others to do the same.
---