Back to News
TV: TW SNOW Team Shoot Out Voting Begins 7/16/12
July 11, 2012
TransWorld SNOWboarding Team Shoot Out Winner To Be Decided By Readers Via Facebook "Likes"—Voting Begins 7/16/12
The TransWorld SNOWboarding Team Shoot Out is in its fourth year, and for the first time ever, the winner will be chosen strictly by the brand's loyal readers.
This year, the teams are comprised of four outerwear brands: Burton AK, Nike, Oakley, and Special Blend. Each team, which is made up of five riders— four men and one woman— chose a location to shoot over 10 consecutive days in April and will compile as much video and photo footage they can with one photographer and a maximum of three filmers.
Submissions include one two-to-five-minute video and eight photos that will be judged solely by the TransWorld SNOWboarding followers. Voting will begin on Monday, July 16, via the TransWorld SNOWboarding Team Shoot Out website page, first with cover shot voting, followed by video voting on Monday, July 23, and lastly the photo galleries, Monday, July 30.
For more details about this year's event and past events, go online to TransWorld SNOWboarding Team Shoot Out. To help kick off the 2012 Team Shoot Out, TransWorld SNOWboarding will be hosting an industry-only event, debuting the four covers of the September 2012 issue, featuring each of the brands chosen this year at the TransWorld headquarters on Thursday, July 12. See event details in the flyer below and make sure to vote!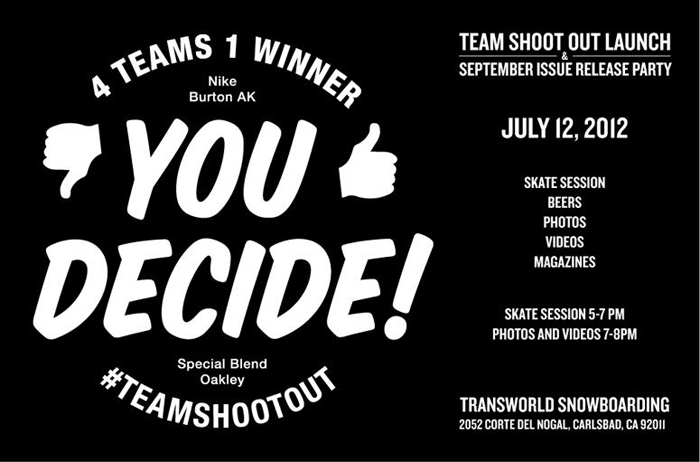 To subscribe to TransWorld SNOWboarding, go online to snowboarding.transworld.net/subscribe.
---