BACK TO NEWS
B$Z: Retail: Plastic Cruisers Could Possibly Be Your Biggest Seller This Summer
Plastic Cruisers Could Possibly Be Your Biggest Seller This Summer
Market report by Alex Crowe & Luke van Unen of Boardsport SOURCE.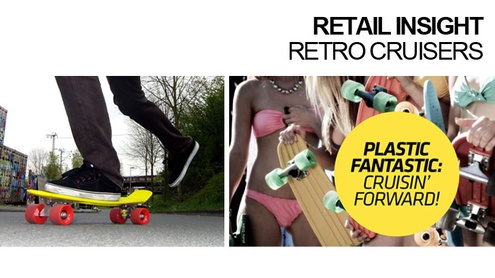 There have been few recent skate hardgoods innovations to come along and raise the retail bottom line, but we're now seeing something roll out from the past and reinvigorate the future. Plastic cruisers could possibly be your biggest seller this summer.
The retro board has seen explosive interest in recent years also, and not just for the collector's wall. We all own at least a second setup these days, if not just for a grocery run, then for carving the park or that hungover Slappy-Sunday. Shiner Distribution in the UK confirmed a 50% increase in retro and longboards even back in 2010. We're now witnessing a new twist - one of poly-prop push boards commonly known as 'plastic cruisers'. A "retro renaissance," "getting back to the basics," "old school styles" and "just a bit of fun" are common phrases thrown around when describing this trend, with everyone agreeing it's been a long time coming.
If you've already managed to commandeer one of these colorful sticks you'll know first hand that they feel a whole lot different to the rusty toy you used to push around as a kid. That's because, unlike the toy you received for Christmas age six, these boards are designed and manufactured by legit skate companies. And unlike that cheap stocking-filler that didn't hold your interest until Easter, these boards are made to last. Similarly, despite an insistence by many that this new "fad" is simply that, sales growth indicates that this trend may be just as lasting.
THE GAME
They've made their way into the core skate shop, and those not currently selling them are hot on it for the coming season, as is Adi Rauscher at Xdouble in Innsbruck who will have multiple brands on the board wall this spring. Some have acted a little faster, but not much; "To be honest, we've only really seen a 'want' for these kind of boards in the last 6–12 months, but the sell-through has been really good even at high RRP's," informs Ned of Oxford-based SS20, one of the UK's longest running skater-owned board shops.
Being such a fast-rising phenomena, it's difficult to quantify the size of the market. Antics International, the force behind Stereo and their vinyl cruisers, suggests that "Europe could be as big as 2–3 million units annually," with most retailers agreeing that this figure can only increase as we head into the warmer months. Coincidently, the same figures were offered by GoldCoast; although they estimated current EU market value at $2–3 million. Fish Skateboards, the homegrown Europe brand of the 1980's, confidently confirms that although data is scarce due to their recent re-emergence, there is linear growth in this subcategory. Either way, that's a skate genre that cannot be ignored by the smart retailer. So here's how to play this game.
THE PIECES
These plastic push boards have come a long way from the days of the first plastic skateboards launched by Makaha in 1963, but the intent of fun and cool remains authentic and energetic. There's something for almost everyone, and something more in store for the rest. Globe have hit strong in this subcategory with their Bantam range, currently available in eight colour combinations with an RRP of €99. "Many plastic skateboards are using almost "toy grade" components so it's important to keep an eye out for that," advises Mike Xavier. The Bantam trucks have a lifetime guarantee, rocking abec bearings and high-grade urethane wheels. They feel confident that they're "as good as anything in the traditional skateboard market."
Although Stereo currently sells just one style also they say they have some new developments coming out later this year. Their existing single model, however, offers "the full package" and a unique design, based on old school vinyl records. "The cruiser comes in a display box, with free Stereo sunglasses and a Stereo sticker pack to customize your board." Definitely a must-have! GoldCoast, traditionally a longboard brand, has grown to include a range of cruisers in their catalogue and has this year they introduced their own fantastic plastic - The Whizz, in five colours, which they say has been very successful.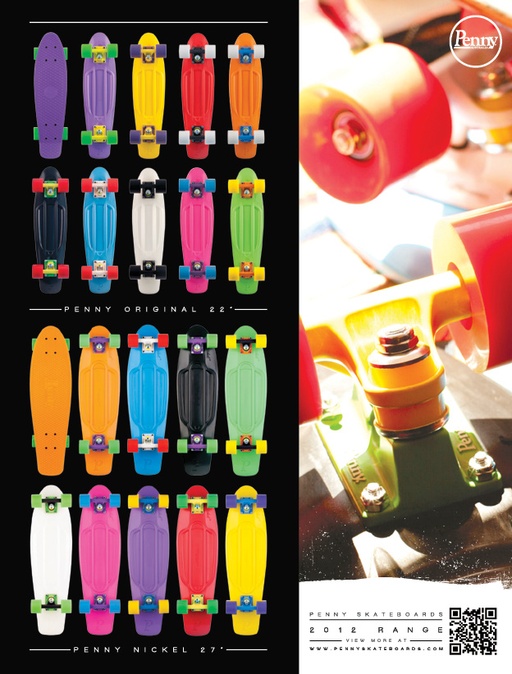 On April 1st this year, Penny released their highly anticipated 2012 collection in a coordinated launch around the world – itself no joke! Using their proven "secret plastic formula" as a base, Penny has now upgraded their components to offer riders an even more enjoyable way to cruise around town. Available in nine colors in both the 22-inch Penny and the larger 27-inch Nickel lines, consumers should have no trouble finding a colourway to compliment their fixie. Founder Ben Mackay informs that; "The new range is really a reflection of our own lifestyles. Being surfers, skaters and artists ourselves, we're fanatical about quality and believe this new range is our best work yet."
THE PLAYERS
While that typical demographic may have initially dominated in the purchase of these boards as the skater opts for an additional "grab some milk" setup, most retailers are reporting a significant increase in female customers; this new demographic opens up an opportunity for retailers to get more girls in store and continue the already positive growth of the female skating community. In terms of selling potential, the plastic cruiser is almost a no-brainer for retailers; particularly since customer interest has extended well past the usual male 15–25 year old skater. Fish Skateboards bravely breaks this down in detail for us with actual Europe figures: 10–18 years old represent 55% of their market, 19–25 years old 30%, 26–32 years old 10% and 5% above 33 years.
Aside from the obvious core/cred lifestyle accessory, these plastic whips have a number of strong points of appeal to reinforce their popularity. When compared to setups for our modern (technical) skating, buyers are freed from the restrictions of performance requirements – which itself brings the initial and ongoing costs down – to say nothing of the exhausting process of deciding on a graphic…
From a retailer perspective, Gus Barba from the BTR shops around France clearly sees the attraction, if not the consumer legitimacy; "I think it's a means of transport and ecologically cool, easy to carry and super fun. You enjoy going to the office, cruising the street. You can make tricks and meet other people, and it feels like surfing." In terms of purchase decision, price is always a factor. Aside from this, Alexis from Nozbone in Paris feels that purchase decision is largely aesthetic: it's all about "Having fun with a coloured deck."
THE REASON
Alexis continues to explain; "It used to be old-school decks that "daddies" wanted to set up to skate again with their kids, then came the cruisers… and now plastic decks that are the logical result of the vintage boards trend." Matt Wong from Globe also informs "There's a retro influence at play here – the "older" guy remembers owning a plastic skateboard back in the 70's. However, to the younger kid, the unique plastic material allows a lot of color popping, and the small size makes it easy to carry around. It's getting used as a mode of transportation more than necessarily doing tricks on."
As if in retort, Globe say that when designing their Bantam, they wanted "something that was very skateable; making the deck slightly wider and with a higher quality plastic that is stiffer than most... This means it performs much closer to a wooden skateboard. We've had plastic skateboard jam sessions at our company's mini ramp so they are definitely very skateable!"
"Skateboarding has become more and more tech within the last years, so the level is real high and it's tough to keep up," says Maik Giersch from Titus. "Sometimes it'd be even a little bit frustrating. Cruisers are just there to have fun - no tech skills needed... everyone can do it and people watching can't tell if that guys is a "real" skateboarder or not." Ron Rauto from Stereo believes the market opening for these plastic boards could be explained even more simply: "They're affordable, fun to skate and easy to stash in your backpack. They're basically the perfect "first board". Plastic cruisers let people get back to the good old days of skating, without taking things too seriously." Or as a favourite local grom put it recently, "I can just pop it in my bag and go, mum." You go, kid!
THE FUTURE
While sales for the plastic cruiser certainly took off over the last twelve months it is widely predicted that the next twelve will be even bigger, with the marketing department pushing the boards as the perfect summer accessory. Advertising campaigns feature hoards of teenagers, both female and male, flocking to sun-kissed parks with their individualized coloured board in toe (or rather, under toe). Globe have even launched the Bantam Babe model search for coming campaigns - sorry guys, girls only.
Mark Giersch feels that, "It could be something that makes skateboarding more mainstream - open to the public. Why not? People have fun with a cruiser and maybe have a stop at the local skatepark and try to ride transition... getting into "real" skateboarding buying a "real" skateboard." So could this plastic generation of skaters be the potential next gen' of serious skaters, and should they be treated as such? Push boards of all kinds have surpassed their predicted popularity, and core board shops are getting far more interest from the general public than from popsicle stick sales! It's anyone's guess where this could go.
And now that your partner probably owns a (plastic) skate now too, there'll be no issue with heading out for a push seven days a week!
---