Back to News
SURF: Stephanie Gilmore Claims 5th ASP Women's World Title
July 14, 2012
Stephanie Gilmore Claims 5th ASP Women's World Title at Roxy Pro Biarritz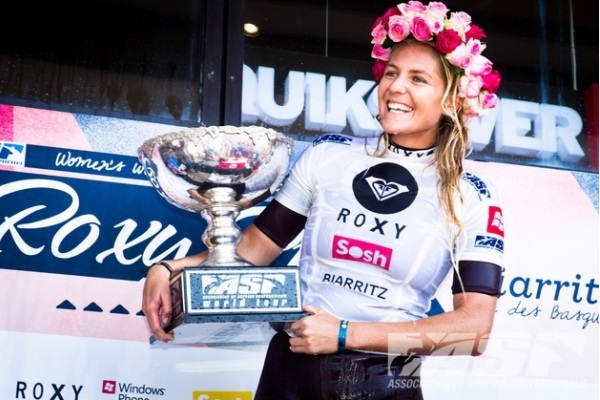 Stephanie Gilmore (AUS), 24, has claimed her 5th ASP Women's World Title today, winning the Roxy Pro Biarritz over Tyler Wright (AUS), 18.
"I woke up this morning and thought it wouldn't happen today," Gilmore said. "But as the day progressed, and things fell into place, I began to believe it could happen. France is such a special place and having so many people on the beach watching us surf today is really emotional. I think I'm going to cry."
Gilmore set an ASP record by being the first surfer ever to win four titles from four attempts (2007 – 2010), but fell back to ASP Women's World No. 3 in 2011. Today's emotional win is a reassertion of her dominance as one of the greatest icons in women's sports.
"This year for me was all about improving my consistency and having fun with my surfing," Gilmore said. "From when I started five years ago to where we are now, women's surfing has improved so much. It's an honor to be back up top as these girls push me everyday and are all incredible surfers."
Today's incredible achievement puts the young natural-footer in an elite class of surfers to win five or more ASP World Titles, overtaking women's records set by Freida Zamba (USA), Wendy Botha (AUS) and Lisa Andersen (USA). The only other two surfers in history to claim five or more titles are Kelly Slater (USA) and Layne Beachley (AUS).
"I have an amazing support team between my family, friends, my shaper Darren Handley, my sponsors and all the people at Quiksilver," Gilmore said. "To be able to do what we do and make a life out of surfing is a really blessed thing. Surfing is what motivates me to wake up each day and attempt to better myself."
2012 ASP Women's World Championship Tour Results:
Roxy Pro Gold Coast: WINNER
Rip Curl Women's Pro Bells Beach: Runner-Up
TSB Bank New Zealand Surf Festival: WINNER
Commonwealth Bank Beachley Classic: Equal 5th
Billabong Rio Pro: Equal 5th
Roxy Pro Biarritz: WINNER
Nike US Open of Surfing: TBD
Fellow finalist Wright put on an impressive display of surfing throughout the Roxy Pro Biarritz, besting Courtney Conlogue (USA), 19, and Coco Ho (HAW), 19, en route to today's Finals. Unfortunately for Wright, her momentum didn't transcend into the Final bout against Gilmore, but the tour sophomore was happy with her performance nonetheless.
"I feel pretty good," Wright said. "I was so excited for Steph (Gilmore). She was ahead of me the whole time and with five minutes to go I was like, 'you've done it!' It's incredible – she ripped the whole contest and didn't lose one heat, she was shredding!"
Today's Runner-Up finish at Grande Plage is a season best for Wright and vaults her from 5th to 3rd on the elite ASP Women's World Championship Tour rankings.
"I'm happy with how that season went," Wright said. "I'm just enjoying myself! I feel it's funner when I just messing around rather than be too serious. You know I love surfing and that's about it."
Carissa Moore (HAW) 19, was stopped in her effort to send the ASP Women's World Title race to the final event in California by eventual winner and newly-crowned Champion Stephanie Gilmore in a very exciting Semifinal that saw the lead change hands several times before the Australian managed to find two high-scoring rides, putting a nail in Moore's coffin. The Hawaiian placing third in Biarritz has reduced the gap between her and the second place on the ASP Women's World Championship Tour rankings and she looking forward to the last event of 2012.
"I'm pretty happy," Moore said. "Obviously I would have loved to surf another final but it's still pretty good. I think the women's level has come a long way, but honestly today it was more a matter of being in the right spot and getting in a good rythmn and it's tough if you don't get to find the good opportunities and another person does. I'm always looking forward to competing so I'm really looking forward to going to the US Open and hopefully I'll get a good performance there."
Coco Ho (HAW) 21, was responsible for the biggest upset today when she defeated Sally Fitzgibbons (AUS), 21, in this morning's Quarterfinals. Ho was later stopped by runner-up Tyler Wright in the semis, not able to find the highest scoring rides in a wind affected line-up. Finishing equal third in Biarritz, Ho confirms her newly found rythmn after a brilliant second place in the previous event in Brazil.
"I'm stoked it feels good to be able to get through those tough first rounds and be able to back up my last good result", Ho said. "It was close but I'm stoked with the overall result. We're really lucky the conditions came together for us today, 'Grande Plage' offered us some really good potential and it was just a matter of positioning so we're stoked we're really lucky."
After a slow start to her fourth season at the elite level, Ho recently regrouped and started showing consistence placing fifth in Sydney, second in Rio and third today in France improving on her quarter-final result in the same event last year.
"Starting this year I had two 13th and I never even had that result before so it was pretty frustrating. I think it kind of just woke me up, made me put my head down and really fight for it!"
Highlights from the Roxy Pro Biarritz will be available via http://roxylive.com/roxyprobiarritz/2012/
The next stop on the ASP Women's World Championship Tour will be the Nike US Open of Surfing from July 30 – August 5, 2012.
For more information, log onto www.aspworldtour.com
ROXY PRO BIARRITZ FINAL RESULTS:
1 – Stephanie Gilmore (AUS) 18.53
2 – Tyler Wright (AUS) 13.10
ROXY PRO BIARRITZ SEMI-FINALS RESULTS:
SF 1: Tyler Wright (AUS) 14.66 def. Coco Ho (HAW) 9.37
SF 2: Stephanie Gilmore (AUS) 17.10 def. Carissa Moore (HAW) 12.50
ROXY PRO BIARRITZ QUARTER-FINALS RESULTS:
QF 1: Tyler Wright (AUS) 11.37 def. Courtney Conlogue (USA) 10.53
QF 2: Coco Ho (HAW) 12.60 def. Sally Fitzgibbons (AUS) 8.76
QF 3: Stephanie Gilmore (AUS) 13.57 def. Malia Manuel (HAW) 10.00
QF 4: Carissa Moore (HAW) 16.33 def. Laura Enever (AUS) 12.07
ROXY PRO BIARRITZ ROUND 4 RESULTS:
Heat 1: Courtney Conlogue (USA) 11.40 def. Lakey Peterson (USA) 9.50
Heat 2: Coco Ho (HAW) 11.67 def. Rebecca Woods (AUS) 8.77
Heat 3: Malia Manuel (HAW) 12.10 def. Paige Hareb (NZL) 9.16
Heat 4: Laura Enever (AUS) 12.13 def. Sofia Mulanovich (PER) 8.66
CURRENT ASP WOMEN'S WCT TOP 5 (After Roxy Pro Biarritz):
1. Stephanie Gilmore (AUS) 48,400 pts
2. Sally Fitzgibbons (AUS) 42,100 pts
3. Carissa Moore (HAW) 36,700 pts
3. Tyler Wright (AUS) 36,700 pts
5. Courtney Conlogue (USA) 34,800 pts
---