Back to News
Korduroy.TV Q&A with Reis Paluso, Blog Manager
July 18, 2012
Korduroy.TV Q&A with Reis Paluso, Blog Manager
Korduroy.tv is a website spreading digital aloha. Through video how-to's, short films, rants and interviews the KTV crew are creating a new platform for independent surf culture - a place where ideas can be shared that respect self-sufficiency, craftsmanship, and a unique surfing experience.
Reis Paluso, a self-described jack of many trades, serves as the resident blog-master at Korduroy and also contributes by continuing to learn and develop his skills to further enhance the KTV team.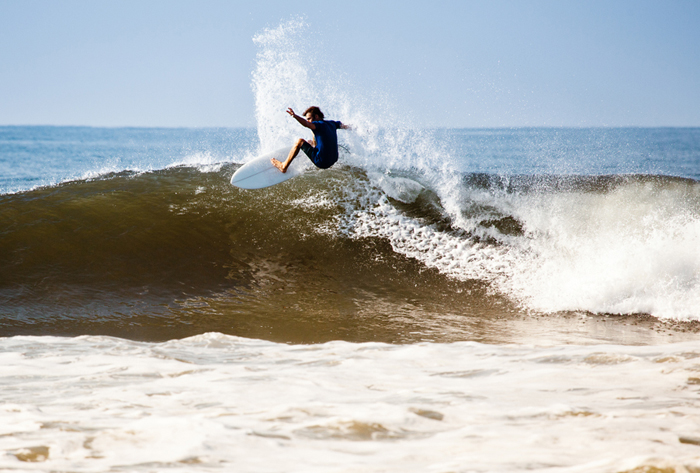 Meet Reis Paluso, Korduroy.TV's blog-master (photo: Erin Kunkel, http://www.erinkunkel.com)
What is your role with Korduroy? How long have you been working with Cyrus?
I started working with Cy in the summer of 2009. We were first introduced while I was working at the Patagonia shop in Cardiff. I began helping him with multiple projects that he was working on at the time but everything soon turned to focus on Korduroy.
My role with Korduroy started off as being sort of the utility guy running the blog and doing occasional shooting and editing. But as our viewership increased, the blog got more in-depth and took most of my focus along with answering emails, coordinating content, working with Cy on new concepts, setting up events and a whole lot more.
At first glance, one could assume Korduroy is surf-centric. But, not far under the surface is a wonderfully eclectic mix of bios and healthy living videos, as well as the surf-centric clips mentioned and diy instructables. So, what's the deal with Korduroy.tv – embracing surfers living a sustainable and healthy lifestyle?
Surfing has been our beginnings, but I think our content goes beyond that bubble to show people that they can live a good life, enjoy the outdoors, and do it all in a healthy, creative way.
And in sharing this message, we have created a platform for independent outdoor culture. We try not alienate the stoked folks by featuring a bunch WT and QS elite surf athletes that the average stoked person can't relate to. Because of this tact, we get a lot of viewers from different areas who are inspired by surf culture but who also hike, skate, snowboard, etc. Surfers have always been conscious, forward-thinking, and free individuals, so we are just showcasing how some people are doing it. We just use surfing as the vehicle for that message.
The DIY stuff is also a big part of our ethos. And Korduroy is really just an excuse for all of us to explore this more in our own lives. By being resourceful and thinking outside of the box, we've been amazed at how much we've accomplished...from making things, to building Korduroy itself! In today's modern era, we are so accustomed to buying something new whilst the same result can be had reusing things. Once we began to think this way, it's amazing what you can do (not to mention the amount of money you can save).
How many people are on staff at Korduroy? Do you hire freelancers? Is Korduroy looking to expand it's team in the near future?
Right now, there are 4 of us working on Korduroy. Cyrus is the founder and creative director. James Campbell is the head of our video production. Dan Llano is our manager and keeps everyone in line. And then there's me. We also have a few other cool folks who are helping on other aspects of Korduroy including web development, video production, and business related work because they believe in what we're doing. We're at a stage now where people can come to us with great ideas and build their own job using the momentum we've created. It's exciting times, like an open-sourced business.

Korduroy.TV's Cyrus Sutton and James Campbell in action.
Korduroy grew from a blog to a proper site, complete with a store and a new, clean, organized, professional feel. How was the site redesign/upgrade process?
For anyone who has been involved in web development, they know how big of an undertaking it can be. There is a lot that goes into it and it costs money to play in the big leagues outside of Wordpress or Tumblr.
There's a learning curve that we're in the middle of refining. I know that when we were designing the new site some 18 months ago, there were a lot of temptations to create all these cool features. We're at the point now where we have like 3 sites in 1 and that's not good for the user experience. Pretty soon we'll be launching an updated version which takes into account our analytics and tons of user feedback to provide our audience with the streamlined Korduroy they want.
Looking back, concepts and ideas only get you so far, but once you put it out there you really begin to see what works and doesn't. There's no tried and true formulas out there, it's sort of like the wild west. We've just been fortunate enough to explore and come back with more and more knowledge.
You went to the public for funding and were obviously successful. Can you speak on how kickstarter allowed your crew to get the site redone?
Kickstarter is great. They have obviously done an awesome job in creating this platform for crowd-source funding. However, although it may seem easy, it is actually quite a bit of work once the project is funded. It's largely a product incentivized donation model so there is a lot of prep work in getting all of those products prepared. We all logged some serious hours putting those prize packages together...you should see the receipt from the post office. It's pretty classic.
And while it may seem like we made $23K or whatever it was, we actually made far, far less after all the rewards were made and sent out. I think if you factored in our time, we made about $10 an hour. I know there are a lot of horror stories out there with people over promising and underproducing and making almost nothing after thousands of hours of work. We were lucky because we have such awesome fans.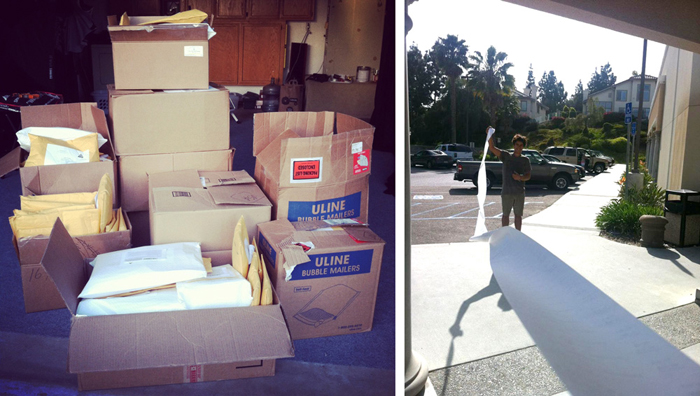 Kickstarter rewards/receipt.
After gathering all the funds donated, it stands to reason the Korduroy crew runs on the backs of the short promos seen on video clips as well as proceeds from the webstore. Has the addition of the store been positive?
The store has been the biggest learning experience with the new site. We envisioned it being far larger and more productive but due to some backend issues, the user's shopping experience hasn't been ideal and phase two of the new site, as mentioned earlier, will featured a dramatically streamlined shopping experience.
Korduroy's working relationship with REEF has been covered publicly, – how beneficial is having a big-time industry veteran company like REEF backing the site?
The relationship with Reef started by their backing Cyrus, and has turned into a huge thing for all of us. Their large fan base and overall reach in the industry has been helpful in spreading our content and REEF as a brand has gone from being all about to T and A to one of coolest companies around. And having gotten a sneak peek at what they are up to this coming year, we're super stoked to be aligned with a brand that's getting sicker by the minute.
How important is it that Korduroy keep content free for users, allowing everyone access to all your great material?
Yes, our episodic content will continue to be free. That's the beauty and the evil of the Internet, depending on what angle you look at it from. :)
Nowadays its easier than ever for a group of young entrepreneurs to start up a website – what counts is creating a product that will stand the test of time. The web is obviously filled with surf-centric sites from all over the world – how has Korduroy stood out amongst the saturated action sports market found online?
Yes, it is super easy to build a website now. With all these free tools and CMS templates, you can whip something up in a few hours. But the reason Korduroy is where its at today is because we've all brutally kicked our own asses for the past three years to create a platform that's relatable.
I feel like we're just getting started and it's taken a long time to get the momentum from scratch. We'll soon be a place where we can leverage our momentum to provide our audience and the brands we choose to work with a winning ticket.
Can you speak on any upcoming projects or ideas viewers can look forward to in 2013?
2011-2012 has been all about developing our new site and getting back to the core DIY and health based shows. 2013 will see the dropping of some really rad new series with shredding and DIY goodness. It's getting us so pumped, it's hard not to talk about them now. But all in good time ;)
Other then that, we are working on physicalizing the website by starting workshops and events at our headquarters. We have this amazing property in the heart of town that the property owner has given us the thumbs up to restore and host these classes. It will be a place where everyone from groms to surf dads and moms to industry professionals can come enjoy a relaxing weekend, make their own handplanes, learn gardening, brewing, etc. and geek out and shred with Cy and the crew. Our first big event will be with Grain Surfboards from Maine in October where we'll be hosting one of their famous wooden surfboard building classes.
Lastly, can you suggest a few videos that epitomize what Korduroy.tv is setting out to produce?
Below are links to a few KTV videos that have been some of our more popular shows (and below that is a great example of the quality of product the Korduroy crew has been delivering regulalry).
Tyler Warren All Yew , Summer Fun Sea Movies , How To Claim Surf Sufficient , Sunburn Basics Health Nuts , From Bottle To Glass D-I-Y-WHY Not , #showusyourquiver contest , Cy & ED's Mexellent Adventures Episode 1
---