Back to News
Greg Hughes, National Sales Manager at AWSM Brand
July 26, 2012
Greg Hughes, National Sales Manager at AWSM Brand
Greg Hughes recently joined AWSM Brand in Spokane, Washington as their National Sales Manager (through the help of Malakye.com) after spending over twenty years working for companies like Burton and Morrow and running his own consulting firm. Greg's passion for the outdoors and action-sports industry is obvious when you consider his lifelong involvement in the business of board-sports - from ding repair and shaping in his teens to more professional jobs in retail and beyond.
What are you most excited about with joining the AWSM team?
People. I've been in this business for a long time and have been so fortunate to be involved with some great people throughout the years. I love that about this business. It was so important for me to find the right fit, as it was for AWSM. Meeting with Patrick Keener and his crew was great. We all hit it off right away and had a lot of tough questions for each other. In the end we all felt like this is a great move for us and we all love the AWSM brand and want to make it successful. We all totally agree on what kind of company AWSM should be.
How do you feel your twenty-plus year history in snow / action sports will be most visible in what you do at AWSM?
I think I can add to what is already a professional and passionate team of people. I've learned that flexibility is key to business and I have a lot of retailers that I know and respect that will want to be part of this. This is a new brand and I know we can avoid a lot of the growing pains with distribution, sourcing, customer service, etc., because of the experience that already exists at AWSM. I'm a piece of the puzzle and that's what I loved about the idea of coming here.
AWSM is a young but growing company offering a wide range of products, what part of the product line is AWSM's cornerstone?
We don't want to use one product as a cornerstone. We'd like to show our patented Skate Tool and our new backpack that has a patented load adjustment strap. Innovation and great pricing and a great team of people are what I consider to be our cornerstone. We want to make it a pleasure for shops to do business with us.
Where are the growth opportunities for the company?
Well designed and functional accessories is a great category to take advantage of as a retailer right now. They are a great add on sale, or a cool item for people with a little money burning a hole in their pocket. We have a unique look and great branding. It's a struggle for retailers to find something fresh to distinguish themselves from all of the rest of the stores. We feel there are plenty of opportunities for a great new brand with its act together.
Do you see any major challenges coming up? If so, how will they be effectively dealt with?
It's tough out there and it seems that it will be for some time to come. Opening stores with new brands is a challenge for sure. But smart retailers know that they can't stand around and complain. AWSM offers a great story with great looking product that is affordable and innovative. We already have some great partners out there excited to sell AWSM.
AWSM's roster of sponsored riders features the best talent from the snow and skate world; have you seen AWSM's teams affect business?
Since I'm brand new I can tell you what I've seen so far. It's a "door opener" for sure. When you make a call to explain what/who AWSM is, it has to be a lead in for sure. There is a lot of equity in that line up of talent and personality. It certainly helps to get the ball rolling before you start pulling out product to look at. I think it's absolutely essential. Then you back it up with great looking, innovative product and everything gets easier.
What are the most notable differences you've felt transitioning from working for several major industry leaders to starting your own business several years ago to now joining a smaller team at AWSM?
Ahhh, good one. This is not a publicly owned company that is making decisions based on shareholders/ investors/ people from the "fashion" world. That's been my world for a while and it's going to be nice to take a break from that. This is a tight crew of very talented, smart individuals that want to make this into something special, make a nice living, and have fun doing it. We want to have the best customer service, shipping, innovative product, offering great stuff that people want with no attitude.
Rewinding back, how did you get started in the business?
I started doing ding repair and making skate decks in my parent's garage at 14 years old in Virginia Beach. Then moved on to shaping and glassing boards in a shed I built out back. I got tired of crappy wetsuits and learned how to ski/snowboard at Massenutten, Virginia by getting a winter job in the ski rental shop. Then, back and forth between the Outer Banks, North Carolina and Snowshoe, West Virginia in retail between seasons and school. I got a job at Burton in Manchester, then moved on to Morrow Snowboards and just stubbornly stayed with it. I love the people and the fun and it sure has been interesting. It's taken me all over the world and has given me the most amazing friends.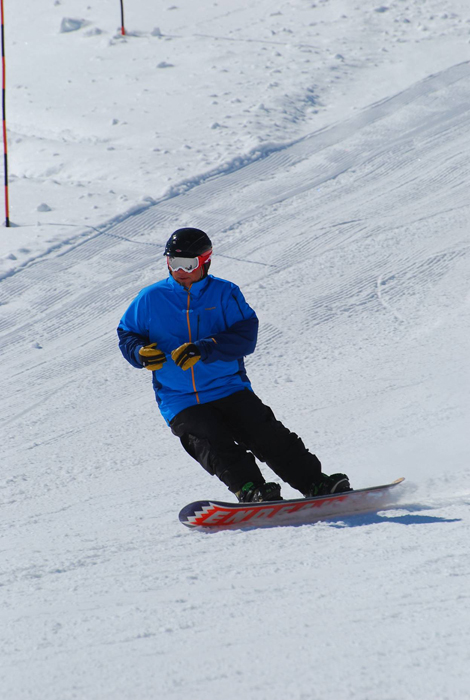 What are the most impactful lessons you've learned working in the industry?
Be truthful and do what you love. Don't ever be afraid to admit you made a mistake and say your sorry if your wrong. ALWAYS pick up the phone when it rings. ALWAYS answer an email. ALWAYS KNOW there is so much more to learn. ALWAYS be willing to help the new guys coming up. They won't forget. When I think of my friends in the biz that are still around and have good jobs, they all do this. Seems simple but it's shocking how many people can't seem to pull it off. AND STAY RELEVANT!
What is the biggest difference between the action sports industry of today and from when you first began?
Technology and how its affected communication, accounting, buying, selling, shipping, social media, online stores, you name it. It's amazing to look back and see what's been going on. Thanks for making me feel old!
---