Back to News
Action Sports Hall of Fame Q&A with Matt Savage, Founder and Head of Research and Marketing
July 27, 2012
Action Sports Hall of Fame Q&A with Matt Savage, Founder and Head of Research and Marketing
Long-time boardsports enthusiast, Matt Savage, recently established the Action Sports Hall of Fame after realizing a few years back that there was no comprehensive Hall of Fame for his favorite sports, although interest was rising with the action sports industry exploding in popularity in recent years.
This rise in general popularity prompted Matt and the crew at X-Hall to include athletes from all disciplines, "since it's impossible to pigeonhole certain accomplishments."
And, according to X-Hall.org, "Now, and every year from now, we let the fans decide who should be inducted." Which means nominees are inducted based on fan votes! You can vote for an athlete up to 10 times per hour, per day which helps to ensure athletes worthy of recognition are selected. But, the X-Hall stresses: "the rules are there ain't no rules."
So if you've ever asked yourself questions like: "Is a national champion motocross racer like James Stewart better than freestyler Mike Metzger because he goes around a track faster?" or: "Should an Olympic alpine ski racer like Ingemar Stenmark be considered a better skier than a pioneer freestyler like Shane McConkey?" Take solace in knowing there's a guy like Matt Savage out there searching for those answers!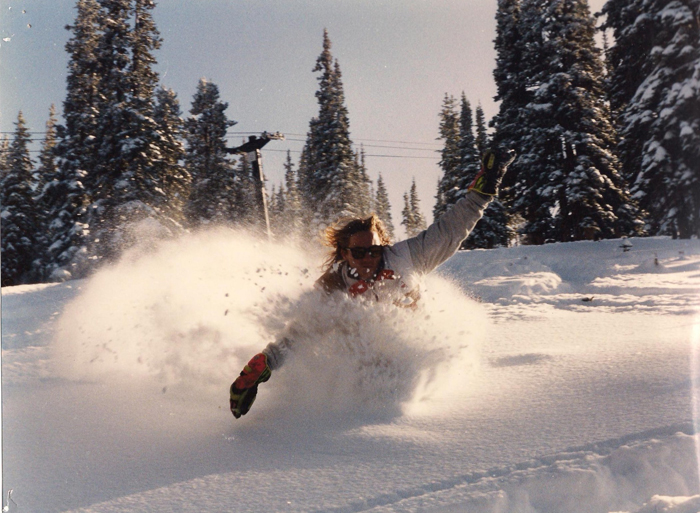 Action Sports Hall of Fame founder Matt Savage, seen here in 1990 at Winter Park.
First off, what is your role with the Action Sports Hall of Fame? Can you mention anyone else involved with producing/creating the X-Hall?
I am the founder, and the head of research and marketing. Jesse Seaver is in charge of IT and web development; he brings years of experience in the industry, and is coincidentally the nephew of [baseball] Hall of Fame pitcher Tom Seaver. Dave Precheur is in charge of business development; he adds over 25 years' experience in the entertainment industry, where he managed the band Blues Traveler, and helped organize major tours and events around the world. Joe Chisholm is in charge of video and film production; he also brings over 25 years' experience in the industry, and most notably led the production unit for the Academy Award winning documentary The Cove.
Where/when did the idea for a comprehensive Action Sports Hall of Fame come about? Why now?
A couple years ago we began looking around the industry at other halls of fame, and immediately realized there was no comprehensive Hall of Fame for action sports. We saw that there were smaller halls of fame out there in each individual sport, but that they were mostly run out of shops, as a way to promote the shop and help bring in more customers. After discussing the ideas with lots of pros, many of whom are likely first round inductees, we realized that there was a lot of interest, and the general feeling was they couldn't believe it hadn't been done yet. After trademarking the name the Action Sports Hall of Fame, we began compiling all the research, and eventually completing the web development. We wanted to make sure this project was done in the most professional manner, with the highest amount of due diligence possible to ensure it was done right. Since the action sports industry has been exploding in popularity in recent years, and based on the reaction, it has been the perfect time to establish a permanent foundation.
How has the idea been received? What sort of reaction has there been from the action sports community?
The reception has been amazing, and has gone way beyond our original predictions. Right from the start we began receiving message from the fan and industry insiders about how happy they were that we made this a reality. So far we've received enthusiastic responses from people all over the world including the USA, Canada, England, Scotland, Australia, New Zealand, Argentina, Brazil, Japan, Russia, South America, Norway, Sweden, Finland, Hungary, Lithuania, and many more.
In addition to fan and industry support, we receive messages every day from the athletes themselves with similar responses. They are really stoked to see that their accomplishments are now going to be recognized in a prestigious and professional manner, similar to mainstream sports like baseball, football, and basketball. We've had many athletes tweet to their followers to vote for them, including Brian Deegan, Larry Linkogle, Rune Glifberg, Kevin Pearce, TJ Lavin, Thomas Vanderham, Willy Santos, Brian Lopes, and Andreas Fransson just to name a few. We've also received personal messages from numerous athletes saying that they were honored to be nominated, so it really seems to resonate with everyone.
An important piece of an Action Sports Hall of Fame obviously is record keeping, but having a physical space where interested parties can travel to and interact with exhibits takes that a step further - can you speak on any plans for a physical location?
Right now we are in talks with the Hall of Champions in Balboa Park (San Diego) to establish a physical location, and it's our preferred location. Bill Walton's group SDSI has played an integral role in helping develop this relationship, and will also assist in the fundraising efforts. The plans, budget, and preliminary artist renderings are in place, featuring cutting edge technology with fully interactive displays and exhibits. We feel that a place like Balboa Park, which already receives a lot of traffic with the San Diego Zoo and other museums, is a perfect place for the location. Action Sports is an essential part of the fabric and makeup of San Diego and Southern California in general, so establishing our location here is our primary focus at this time.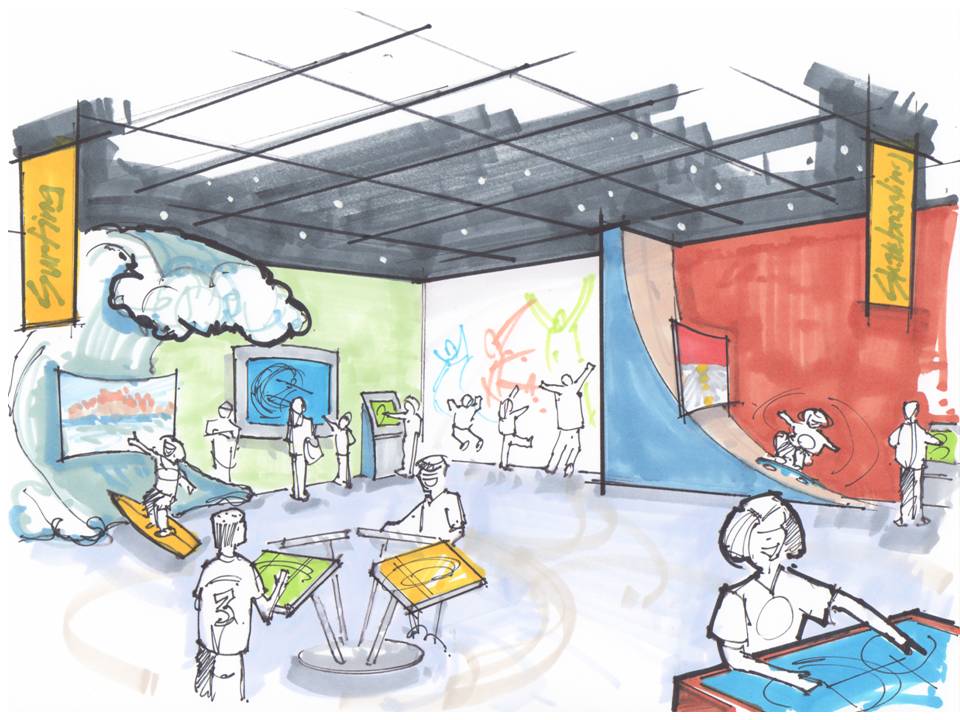 Rendering of the future interactive Action Sports Hall of Fame, with plans to be located in San Diego at Balboa Park.
And, of course, a key component of the Action Sports Hall of Fame is giving the power to the people. Can you explain the voting and induction processes?
Since so many of the most influential action sports athletes don't compete in contests, we felt the only way to properly induct nominees was to let the people decide. Right now, fans are able to go to our website at www.XHall.org and vote for their favorite athletes, up to 10 times per hour, per athlete. In the spirit of action sports, this encourages competition among the fans and establishes a worldwide collaboration. With the power of social media, it's amazing to see how things are developing…for example; snowboarder Kevin Pearce sent a few messages to his fans on Twitter when he realized he was nominated, and the next day he received over 1,700 votes. The fans are happy because their voice is being heard, and they're excited to become a part of history in the making.
Currently, surf/skate/snow/ski/moto/bike fans are able to vote online for the class of 2013 – when will winners be announced? Will there be an induction ceremony for this inaugural class?
The first class of inductees will be announced in the summer of 2013, and we anticipate inducting 15 to 20 athletes in each sport. After the first year, there will be 10 new athletes inducted each year in each sport. We anticipate having a ceremony for the inaugural class at our future physical location, as long as it's completed by that time. If construction is not complete, we hope to have a ceremony that's similar in nature to other major and large scale award events.
There is a Surfer's Hall of Fame in Huntington Beach, as well as the Skate HOF at Skatelab – do you see these individual entities as competition for what the Action Sports Hall of Fame is trying to accomplish?
We don't see them as competition, mainly because they are run out of shops and select their inductees using a small committee of individuals. They also induct industry executives in addition to the athletes… the Skateboard Hall of Fame at Skatelab even has the band Black Flag inducted, which is fine if that's how they want to do it. The Ski and Snowboard Hall of Fame is run out of a small ski chalet on the upper peninsula of Michigan, yet most of the inductees are old guys in big wool sweaters, wool pants, wooden skis, and wearing bota bags around their necks. Most of these skiers just aren't relevant today, since skiing has progressed so much in the last 25 years alone (at the same time, there are only about 3 snowboarders in their inductee list). The same holds true with the Motorcycle Hall of Fame… picture old guys wearing leather jackets, riding old Indian motorcycles, celebrating the early days of motorcycle barnstorming, with a few notable racers thrown into the mix. Therefore, we combine some of the older and more influential athletes, with a heavier emphasis placed on athletes that have done such huge things in progression over the last 25 years or so.
Have you modeled X-Hall on any other popular HoF's (namely baseball's in Cooperstown, football's in Canton)?
The Action Sports Hall of Fame is similar to the mainstream sports' halls of fame in that we represent a sole entity that focuses on the athletes themselves, in a permanent location. However, we're different in that we're the only Hall of Fame that lets the people decide who will be inducted. The inductees for the Halls of Fame in football, baseball, and basketball are selected by committees, board members, and sports writers, and primarily base their inductees on stats… of course there's also a lot of politics involved. With the steroid era in baseball, guys like Barry Bonds and Roger Clemens will probably never make it in, even though most of the league was juiced at the time. The Action Sports Hall of Fame's physical location will also be different, since we will feature the most cutting edge technology available, with interactive displays, all of which are more directed toward our savvy audience.
What do you hope to accomplish with the Action Sports Hall of Fame?
Our primary goal is to recognize the athletes that have done so much toward progressing their sports, in the most professional way possible. Action Sports are different than mainstream sports because the athletes are putting their lives on the line every day, and many of our nominees have lost their lives while pushing the boundaries. It's time for them to be recognized for their accomplishments now and forever, which is what the Action Sports Hall of Fame is all about.
Is there anything you'd like to add…?
We just want to thank all the athletes and fans that have given their support, and all the positive feedback we've received. Many of the nominated athletes are tweeting to their followers to go to the site and vote, and things are just getting started. Fans are also spreading the word at an exponential rate, as they send out messages to their friends to make sure they go to the site and rock the vote. Everyone seems to be extremely happy that their voice is being heard, and that the inductees won't be decided by a committee made up of a select group of individuals and industry moguls. We also want to say that the women nominees will be announced soon, and will be included on our website within the next month. Again, we want to encourage all the fans to go to the site (at X-Hall.org), let your voice be heard, and help become a part of history.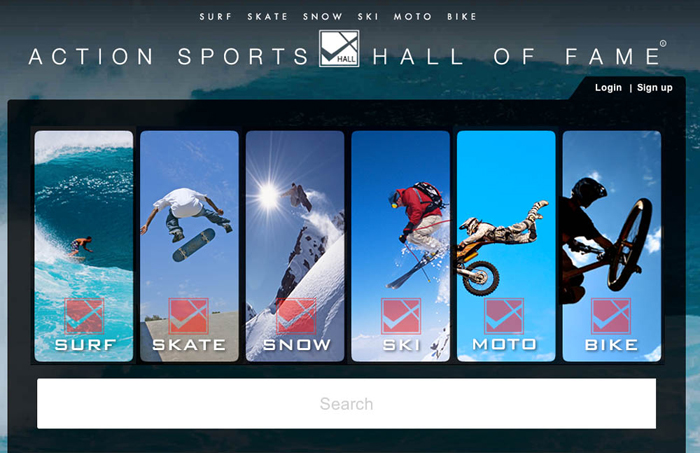 ---