Back to News
The Individuals Behind Malakye's Upcoming ShmoozzPalooza Events
July 31, 2012
Malakye's ShmoozaPalooza will be taking place this week! First, we'll be in Long Beach on Thursday, August 2 at the Agenda Show. Then, we're headed to Salt Lake City, Utah, to mix it up with the adventurous group at Outdoor Retailer on Saturday, August 4.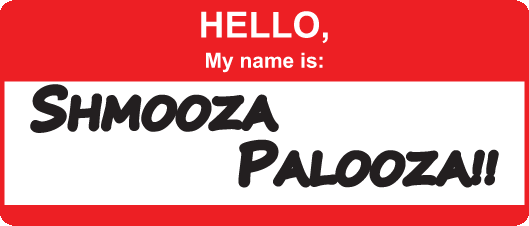 In honor of the upcoming events, we decided to do a special feature on companies participating in the Shmooz! We asked each company who they would like to see at Shmooz, and here's what we got in response:
From companies participating in the Shmooz @ the AGENDA SHOW on August 2, 2012 in Long Beach, Calif.:
Scott Tilton, HookIt.com
"I want to see energetic, intelligent people who want to change the world...and shred at their sport!"
Oakley Recruiting Team
"Oakley is innovative, creative and passionate.
Resume or not - stop by our camp, spill your guts and show us the Mad Scientist in you.
FYI - Bring a cold beer and we'll fast track you to the front of the line!"
Per Welinder, JSLV (Blitz Distribution)
"MC Hammer - It's Hammer Time
Jeremy Havlik, VANS"
"I'll tell you who I don't want to see, people in tuxedos or comic book costumes. Do your homework and tell us why you want to work at Vans or Reef and what you want to do for us."
Brandon Hartline, Quiksilver
"We would like to see people who love life and are passionate about their career as well as the company they would like to work for. I enjoy meeting people who have a genuine love for our brands."
Tiffany Havlik, Tilly's
"I want to see that hot recruiter from Vans!!"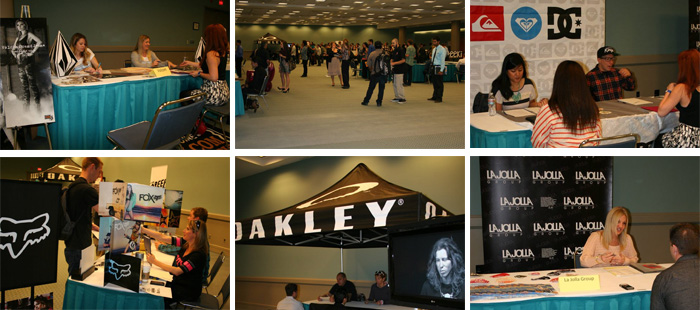 Here's a look at Shmooz X Agenda, 2011.
From companies participating in the Shmooz @ OUTDOOR RETAILER on August 4, 2012 in Salt Lake City, Utah:
Patrice Stankavich, Far Bank Enterprises
"SAGE, Redington and RIO Products are all brands under the organization of Far Bank Enterprises. Our goal is to transform Far Bank into the leading outdoor company built around the fly fishing lifestyle. Based on Bainbridge Island in Washington, we are looking for excited, fun, outdoor loving candidates to be part of our teams. Participate in an environment that lives the following Core Values: We provide exceptional products. We offer extraordinary customer service. We have a pride and passion for our work, industry and business. We live with integrity in all we do. We work hard, but we have fun."
Jason Cale, EK Ekcessories
"Experienced, independent regional sales reps with solid outdoor sales experience and who are passionate about offering innovative, US made products and premium service as well."
Lena Laakso, PETZL
"Petzl fans who are ready to Shmooz!"
Christian Mason, Deuter USA
"I'd like to meet some motivated core users with the right mix of industry experience who are psyched to live in Boulder Colorado."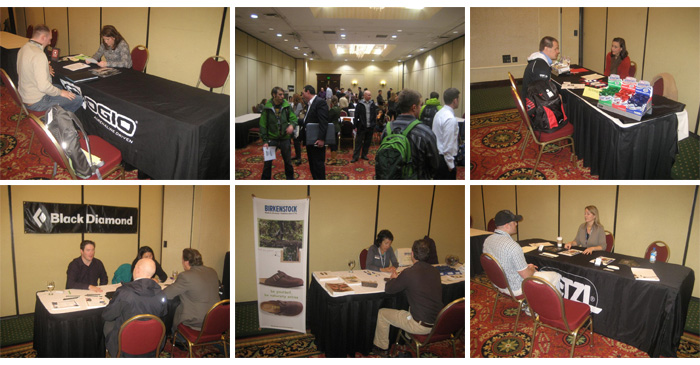 Here's a look at Shmooz X Outdoor Retailer, 2011.
---