Back to News
B$Z: Monster Energy Sponsors the Recon Tour - a three-round SoCal-based freestyle BMX comp
July 31, 2012
Monster Energy Sponsors the Recon Tour - a three-round SoCal-based freestyle BMX comp
The Recon Tour hits three parks to support the nation's top up and coming BMX riders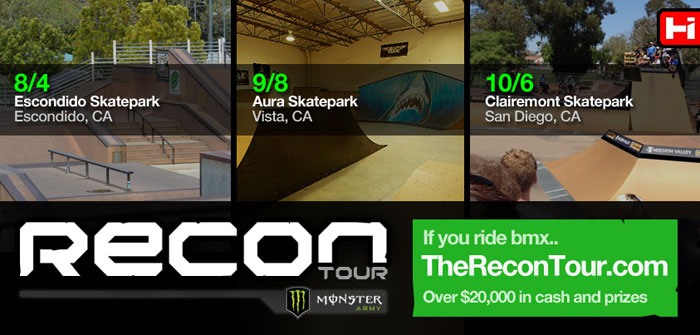 Monster Energy has teamed up with Hookit to create the inaugural 2012 Recon Tour, a Southern California-based three stop competition freestyle BMX series. The tour starts Aug. 4th at Escondido Sports Center, with two more rounds scheduled in Vista (Aura Skatepark, Sept. 8th) and San Diego (Mission Valley YMCA / Krause Family Skatepark, Oct. 6th).
The Recon Tour's mission is to provide a better platform for BMX riders of all ages and abilities to compete and showcase their talent. The tour is initially targeting the San Diego region for 2012 with plans to expand in 2013.
"Given the current lack of freestyle BMX events for riders – there's a limited amount of venues where riders can prove themselves through competition," said Monster Energy's Christopher Stumbles. "The Recon Tour is being utilized as an intelligence gathering mission to find and support the best unknown riders."
With more than $20,000 in cash and prizes on the line, Monster Army members involved in the Paid to Podium (P2P) program can also benefit with $150 for 1st place, $100 for 2nd and $50 for 3rd in select divisions per event. For more details, visit www.monsterarmy.com/paidtopodium. The Open / Pro Purse alone is $500 (1st), $300 (2nd) and $200 (3rd) per event – which will not only spark the interest of local pros, but anybody from out-of-town paying couch rent while touring the SoCal skatepark scene. There's also a $1,000 cash prize to the overall Recon Tour Open / Pro class winner.
For more information on the Recon Tour, visit www.therecontour.com. You can also follow the tour on Facebook at www.facebook.com/recontour and on Twitter @recontour. To get involved as a sponsor or partner, please contact Robby Burleson at 888-874-3374 ext. 103 or [email protected].
---